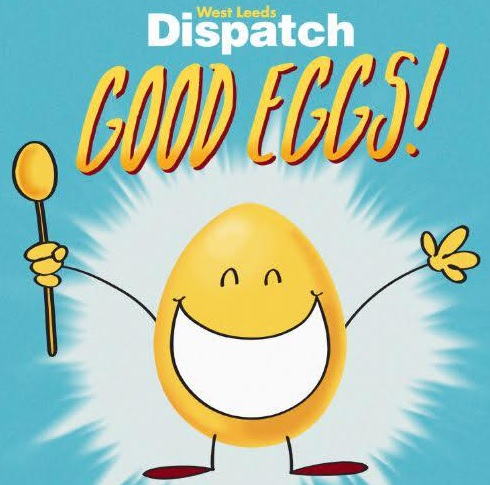 A good friend who helped his pal through cancer is the August 2018 West Leeds Dispatch Good Egg winner.
Kevin Friend, of Heights Way, Armley was nominated by Rachel Robinson after offering his support during difficult times.
Kevin wins a week's free swim/steam/gym at the community-led Bramley Baths as part of his award, which each month recognise people who make a difference to people's lives and communities.
Rachel said:
"Kevin is a very good friend and helped me through cancer between 2006 to 2009 and has helped ever since, particularly when I got diagnosed with bi-polar and felt really low.

"He was/is always there to talk to or give me a lift to somewhere or even just come round for a cuppa and listen.

"He took me to my last radiotherapy session at Cookridge on his Vespa which was fun! He was with me for my last chemo and herceptin. Kevin helps me see the funny side of things and makes bad problems seem less.

"Kevin always helps others too when he can. He is a priceless friend. He deserves some recognition and to know he's appreciated by me, his family and friends."
Kevin, who will also receive an invitation to our end-of-year 'Good Eggs' celebration, said he was surprised by the nomination. "I never expected anything like this!" he said.
He joins previous winners selfless and generous Farnley Academy pupil Kayleigh Glancy, Bramley's Philip McConnell, who won April's prize for his work guiding a local community organisation, Farnley Reservoir campaigner Daniel Riley, Farsley's 11-year-old singer and charity supporter Jessica May-Frost and Bramley Parkrun volunteer Jean Hollings, from Armley.
Pudsey woman Lesley Whiteley was recognised for giving up hours of her spare time to run a special ukulele group, Lower Wortley's Roger Foyle won for giving his time so generously to help local scouts, friends and family, and Bramley's Dave Dubej for his overall generosity and 'can do' attitude.
Keep your eyes peeled for the September nomination form!