West Leeds Dispatch is an independent community-led news outlet operating both online and in print. We're a not-for-profit social enterprise, with any profits being ploughed back into making the organisation sustainable.
Online
Reach your customers online! A sponsored post gives you a 250-word article with as many photographs as you'd like. They are circulated via our social media channels and e-mail newsletter and are easily findable on search engines like Google.
Sponsored posts on our website are available individually from £60 each, £99 for two.
Take out a print advert, and receive a sponsored post for just £10 extra.
In print
We recently launched a pilot print edition and are hoping to publish more regularly moving forward. We will have a circulation of 5,000 and an estimated readership of up to 15,000 people.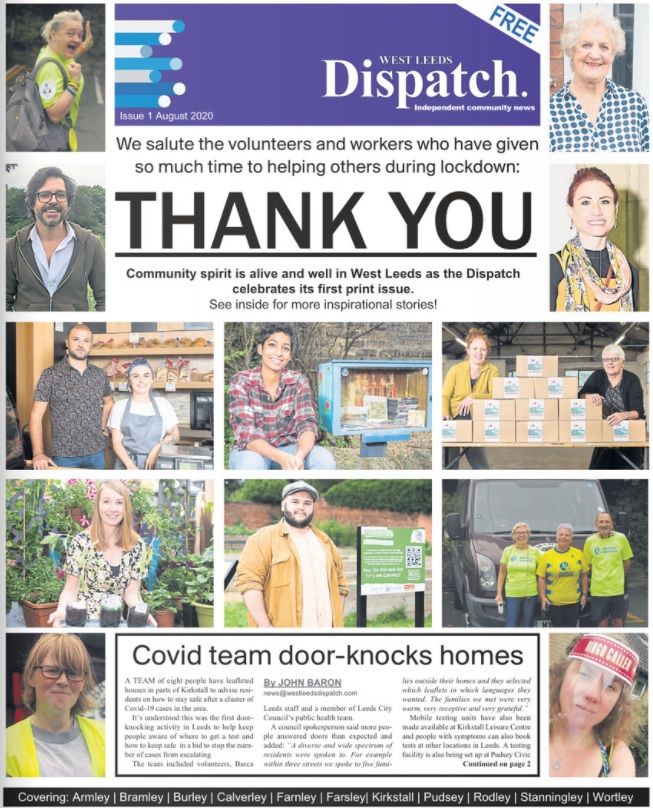 The newspaper will distributed across West Leeds – Armley, Bramley, Burley, Calverley, Farnley, Farsley, Kirkstall, Pudsey, Rodley, Stanningley & Wortley.
It will be available in community venues, pubs, cafes, libraries, doctors' surgeries, places of worship, shops and directly via community groups.
Prices are:

Print advert dimensions
Full page: Width 262.2mm, height 317.5mm
Half page: Width 262.2mm, height 158.7mm
Quarter page: Width 131.1mm height 158.75mm
Eighth page: Width 131.1mm height 79.4mm
Get a quote
To enquire about advertising either online or in print, please contact Editor John Baron:
Call 07446 968140
Email news@westleedsdispatch.com
Ethical advertising
In November 2019 the Dispatch's editor and board agreed these ethical guidelines.
Personal contributions
If you would like to make a personal contribution to the West Leeds Dispatch, please choose a supporter's plan on our Steady page below..