A Pudsey woman who gives up hours of her spare time to run a special ukulele group has become the December West Leeds Dispatch 'Good Egg'!
The eggciting monthly accolade, which recognises people who selflessly make a difference to their communities, has gone to Lesley Whiteley, who runs Pudsey's community ukulele band Luxulele based at Café Lux.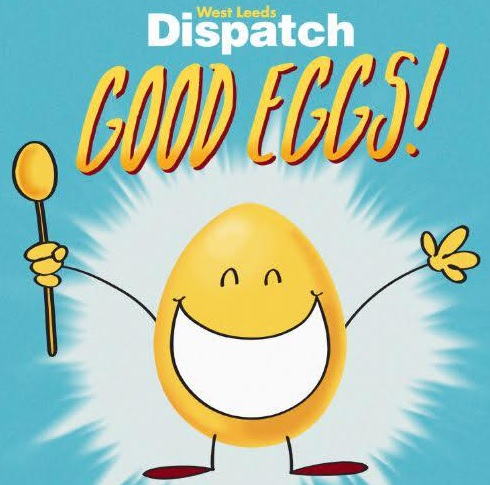 She was nominated by band member Carol Hodgson, who hailed Lesley for her tireless work organising events, fundraising for charity and generally bringing everybody together for vital companionship over the past three years.
Receiving the 'Good Egg' accolade, Lesley said:
"I am absolutely gobsmacked – this is totally unexpected. It's typical of Carol to do this, she's very thoughtful and works as hard as I do – she deserves recognition."
Cancer sufferer Lesley got involved with music while attending The Haven, a cancer support organisation for women. Through that she became involved with the Otley Ukulele Orchestra and enjoyed it so much she decided to set up her own band in Pudsey. She said:
"I wanted to set up a daytime group as most of the things available are at night and you often need that daytime contact. Music is the glue that keeps us together and we are all good friends within the group."
Lesley wins a meal for four at Bramley Lawn Social Centre specially prepared by professional chef David Bennett, pictured below.
The monthly meals are a great way to get together and share a restaurant meal for people of all ages. The meal is 'pay what you decide'. More details – and bookings – here.
Nominating Lesley as a cracking 'Good Egg', Carol wrote:
"She voluntarily gives up her time and energy every week, organising music to play and events to give enjoyment back in to the community.

"The aim was to form a local group accessible to all levels of musicians and to bring people together to enjoy song and play music. We've played at charity events, residential homes, day centres, coffee mornings, markets and fetes.

"Luxulele is all about making friends, enjoyment and most of all having FUN! Lesley certainly keeps all our spirits up every week, never complains, always happy to help. Her favourite song is 'You are my Sunshine'."
Luxulele meet every Tuesday morning at 11am at Café Lux in Pudsey and regularly have over 30 players, most of whom have never played an instrument before.
It was a difficult task deciding this month's winner, who follows in the footsteps of November winner Dave Dubej. The Dispatch would like to thanks the fabulous Fran Graham at Bramley Lawn for providing the prize.
Nominate your 'Good Egg for January
Now's the time to get cracking with January's 'Good Egg'!
Nominees could range from someone who picks up litter in streets, works tirelessly to run a local community group, or volunteers their time to make a difference where they live or who selflessly gives back to their community without wanting anything in return.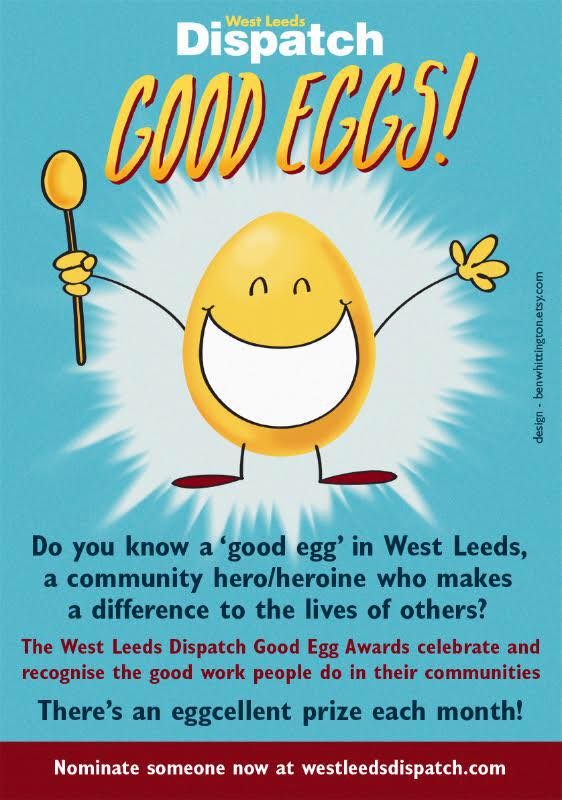 It couldn't be easier to enter, simply fill in form below, telling us why your nominee deserves recognition – remember to include your own name and contact details!
Or follow this link.
Winner gets a Blue Tiger voucher!
January's winner will receive in a £20 voucher for a meal at the gorgeous Blue Tiger restaurant in Bramley.
Blue Tiger specialises in delicious fusion dishes, full of flavour and combining tastes from Indian, Bangladeshi and Persian cuisine. Its menu has been specially formulated to bring together all the best from these dishes, and make something uniquely different.
The restaurant is based on Ganners Hill and can be contacted on 0113 440 7943. Our thanks to Abdul for the prize!
Get nominating today! January nominations close January 29, 2018.