The first monthly winner of West Leeds Dispatch Good Eggs is announced today – and we hope you agree he's an 'eggcellent' and worthy winner!
We had 15 different nominations for unsung community heroes or heroines who go that extra mile without getting the recognition they deserve.
It's an understatement to say it was an incredibly difficult decision, but after a LOT of soul-searching we've come up with a winner for November…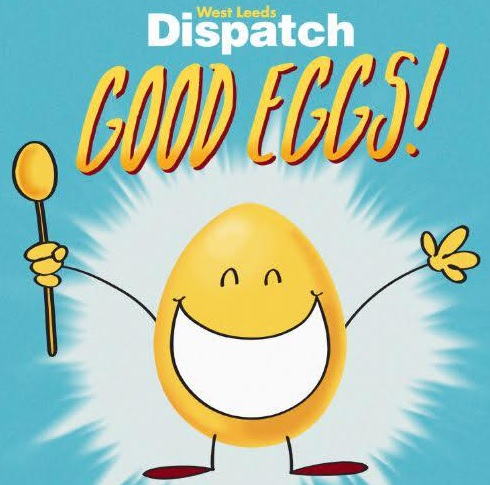 Dave Dubej, of Bramley, was has won the November 'Good Egg' title for his overall generosity and 'can do' attitude.
Fran Graham, a fellow Bramley resident who also works at , had no hesitation in nominating Dave, who runs the Ironmongers on Town Street, Bramley . Fran said:
"He's a small independent trader who is probably having a tough time – well, I know it's hard making money in our area – but he never lets that stop him from being generous to everyone else.

"When kids pop by and their bikes need fixing, he does it for free, sorts out their brakes, makes them safe with no bother. He says 'well, they're kids' – doesn't question it – just generous.

"He goes and fixes stuff for people after work, pops into someone's house to fix a light, replace a bulb, and many times in the last few months he's come to Bramley Elderly Action to fix doors and windows from recent break-ins we've had.

"Sometimes you need a little bit of help from someone who knows how to do it professionally, quick and painlessly. Dave is that person. I would love him to know how much it means to people – these are acts of kindness that you can't put a price on."
Dave, an ex-soldier, also takes part in tidying war graves in Bramley Baptist Church graveyard every other Wednesday with a group of other volunteers.
Dave, who wins a free pass for a week of swimming, gym use or the steam room at community-led Bramley Baths, was typically humble when told of his award. He said:
"I'm shocked and humbled, I can't believe people would nominate me for this as I don't do it for recognition. I do it to help people.

"If kids come in and need help with a puncture I'm happy to help them, it's the least I can do.

"I help people where I can – the Bramley community has supported me and my business for 15 years and it's a way of giving something back."
West Leeds Dispatch editor John Baron paid tribute to Dave's work and the overall quality of all the nominees.
"Dave exemplifies what the 'West Leeds Dispatch Good Eggs' are all about – making a difference to people in a small but meaningful and selfless way. He captured all our hearts while we were agonising over our decision.

"The  Dispatch board had great difficulty in choosing our overall winner. It was really tough, there are so many people doing brilliant things that make a difference to their communities. We hope people who nominated potential 'good eggs' in November and who missed out this time will nominate them again."
John, who thanked Bramley Baths for their sponsorship for this first award, added that nominations for the December 'Good Egg' will be open soon. He added:
"Keep an eye on The Dispatch for the December awards form – and get nominating your 'good eggs'!"
Prizes sought
Each month the Dispatch will be teaming up with a local business to offer a prize.
For our first monthly prize we teamed up with our friends at community-led Bramley Baths. Bramley Baths is a place powered by people, and steam, by conversations, friendships and masses of community spirit. Contact them on 0113 256 0949 or visit their website for more information.
If you're a business we'd love you to get in touch via news@westleedsdispatch.com if you would like to sponsor a prize.