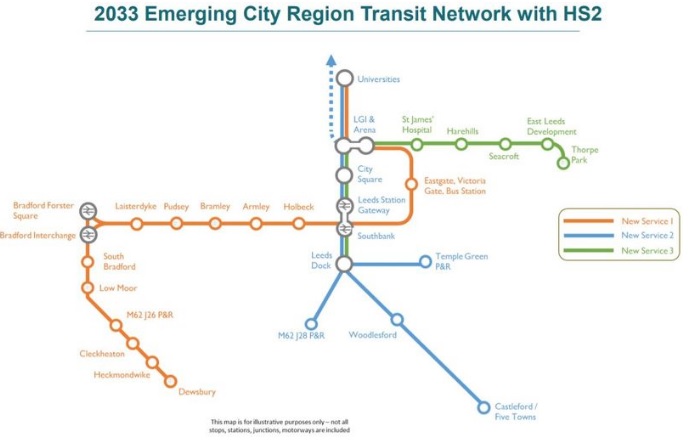 The WYCA transport committee have produced a paper outlining the plans to provide a mass transit system of a kind yet to be established but pertaining to be a hybrid animal combining bus, rail and tram/train.
This is to meet the future demands of the populace in and around Leeds City Region and incorporating Bradford, Wakefield, Dewsbury and the five towns.
The WYCA do not state how they have come up with such a scheme but one can surmise they have compiled the whole from suggestions and ideas submitted by the citizens who contributed to the consultation process.
Would the WYCA care to disclose to the population whose ideas they have incorporated into their scheme?
The consultation process, one can assume, included many composite ideas from interested parties. There would have been many who advocated connecting the two Bradford Stations and also reopening the Spen Valley Line.
Perusing Figure 2:3 in their paper does show some limitation in their thinking and planning with regard to people movement.
The pertinent absentee is the lack of a connection direct to the airport, whether it be road or rail.
The three new lines, while providing complementary services to the existing over-capacity ones, could be better linked.
The blue and orange lines could be linked from Castleford through Wakefield to Dewsbury in the South and in the North by extending the Blue Line through to Horsforth and then to the Airport, linking with an extended Orange Line from Bradford through Shipley to Ghyll Royd then up to the Airport.
The whole system would have to be integrated into and work with the existing rail network and not just complement it.
The plans show the lines but do not say which preferred mode of travel will be used, though one can surmise it being some sort of tram/train because of the terminology that vehicles carrying 200 plus have to run on steel rails(technology might evolve some other mode prior to construction).
The question also arises whether these lines will be underground or overground or comprise both. Surely the optimum choice in the CBD will essentially be underground and comprising of an inner circle which all modes of travel will ultimately serve.
The WYCA should be commended for finally compiling a plan for a mass transit system but already there are criticisms that they haven't produced a complete framework for the area.
East West and the South seem to fare quite well but the North seems to be excluded. Is there a reason for its non inclusion?
The Victorian entrepreneurs were obviously dissuaded by the difficult and conflicting contours of the area, can the same be said of today's plans?
HS2 and NPR, although separate entities, would have to be considered in the plans just as these plans should be considered by those working for HS2 and NPR.
A great deal of collaboration will be required to produce the envisaged epitome of a viable, successful network.
By e-mail
D Angood
Britannia Close
Stanningley, Pudsey