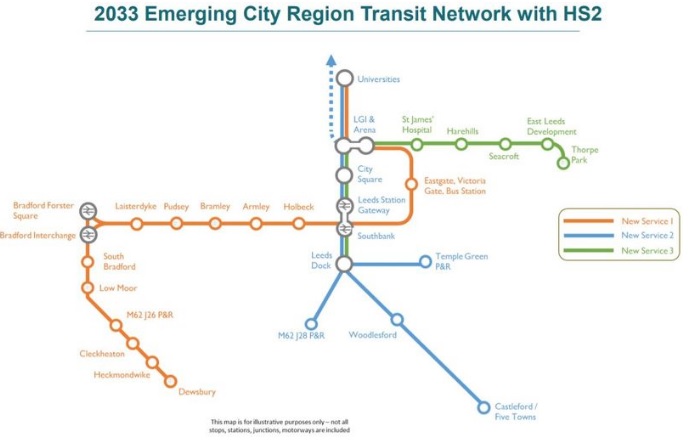 West Leeds could benefit from one of three new 'Mass Rapid Transport' lines which could be built from the city centre out into neighbouring areas.
Early plans – dubbed as 'the start of a conversation' by transport chiefs – feature a route that could run from Leeds city centre to Holbeck, Armley, Bramley and Pudsey before heading into Bradford and North Kirklees, ending at Dewsbury.
It's unclear at this stage whether the new system would feature trains, trams or buses. Transport chiefs have also said the draft map (above) is for illustrative purposes and does not include all stops, stations and junctions.
Line two shows routes serving Leeds Dock, Temple Green, a new park and ride at Tingley, Woodlesford and Castleford.
Line three appears to go through Leeds central station to the arena, St James' Hospital, Harehills, Seacroft and on to Thorpe Park.
A meeting of West Yorkshire Combined Authority's transport committee publically discussed the newly-mooted mass transit system for the first time today.
The committee agreed to start consulting with the public and stakeholders about its proposals in the New Year.
The new system would transform connectivity in communities of greatest economic need and improve air quality.
A report agreed by members today says the arrival of High Speed Rail 2 (HS2) in Leeds in 2033 will have a significant impact on the number of journeys on key local routes and suggests that to meet the level of demand, mass transit could have a significant role to play as part of an integrated, 21st-century transport system.
Cllr Kim Groves, Chair of the West Yorkshire Combined Authority Transport Committee, said:
"The Combined Authority and our partners are looking carefully at where people will live and work in the coming decades and how their travelling needs could be met.

"In the New Year we plan to speak to the public, businesses and others about the role a mass transit system could play in the future and the communities it could connect."
The report contains a plan which shows a potential mass transit network stretching from Leeds into Bradford, North Kirklees and the Wakefield district, and how it could operate in tandem with other developments in the transport network.
The report can be read in full here.
Leeds is now the only major city in the UK without some form of mass transit system. In the past 20 years, plans for both a tram system and trolleybus in Leeds have both been scrapped.