Leeds West MP Rachel Reeves continues her monthly column…
Abbey House and Armley Industrial Museum
One of the things I have missed most over the past few months is the opportunity to visit our excellent local museums. Fortunately, Armley Industrial Museum and Abbey House Museum are now both open again.
As part of the National Heritage Open Days (12th-20th September), I visited both of these local treasures to talk to Richard at Abbey House and Andrew at Armley House Museum and their staff to see how the museums had coped with the challenges presented by the COVID pandemic.
During lockdown, most staff were re-deployed to other essential council services – but everyone was glad to be back welcoming visitors now the museums have opened their doors once more.
It was great to be able to visit the museums again. And, I know we are all very grateful to the staff who have worked so hard to implement a whole range of safety measures including one-way systems, social distancing, mask wearing and enhanced cleaning regimes.
School Visits
Schools have remained open throughout the pandemic for vulnerable children and children of key workers. Before the summer break, schools also opened their doors to some year groups and in September they opened fully.
This has been a huge logistical challenge for school leaders. It will continue to be a challenge as cases will inevitably be identified in schools and "bubbles" will be collapsed while children and staff self-isolate.
Visiting the heads at two local schools recently (Pete McQuillen-Strong at Holy Family Catholic Primary and Alistair Darnell and Andrea Riley at Castleton) gave me a chance to discuss how they had worked with the local community during lockdown, and their plans for the coming months.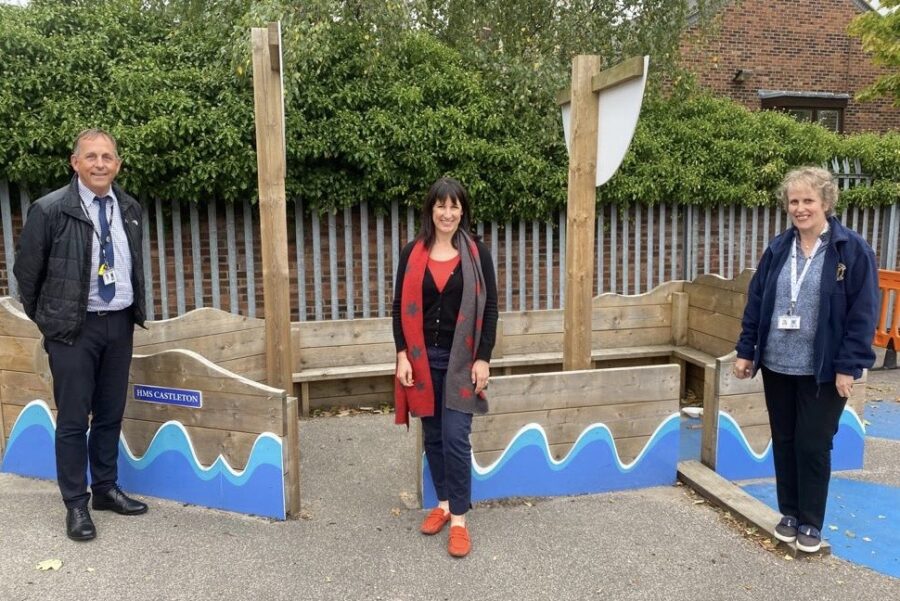 It was really wonderful to hear about the work that has been going on, including delivering food parcels, welfare checks and even the opening of the school playing field so children living in high-rise blocks had a safe space for exercise.
I have always worked closely with schools across the constituency, and usually have lots of contact with the children and young adults in Leeds West. The current circumstances due to Covid-19 has meant this is impossible, but my socially-distanced visits with school leaders will continue.
Mobile Covid Testing Units
Leeds City Council organised two mobile or pop-up test centres in the constituency following localised Covid outbreaks in Bramley and Kirkstall. I visited the Bramley pop-up centre to meet Ollie and his team to thank them for their work and gain a better understanding of how the testing system operates.
The mobile testing units are designed to be a rapid, localised and effective response. The problems with testing both locally and nationally are well known and many people have struggled to get a test. I will continue to press the Government to dramatically increase the number of tests available.
I would encourage anyone wanting to get a coronavirus test to book one through the online national Test and Trace system or dialling 119.
You should only try and get a test if you have symptoms. If you need a test and are having issues, please contact my office and we will do our best to help.
Interplay Theatre Company
This year Interplay Theatre Company celebrated its 50th year in Armley. In any other year, this would have been cause for several large community celebrations. Sadly, it has been necessary to put these on hold. Putting on performances while keeping to social distancing rules is obviously a challenge, but Interplay are doing their best to find creative solutions!
Local Hero Awards come to an end – for this year….
My Leeds West Local Hero Awards have now come to an end. I started these awards in the early summer after I heard several stories of community heroes who were making fantastic contributions.
The nominations I received were incredibly uplifting, with so many examples of individuals and organisations doing outstanding work.
The final winners were Aiden Delaney and his grandson Kaiden – true heroes by anyone's measure. Their story was reported by WLD here.
My hope is to run these awards annually. In challenging times such as these, it is heartening to see so many examples of community spirit demonstrated by the people of West Leeds.