One of my favourite things is walking with my dog, writes Kirkstall resident MINDY GOOSE.
With my camera phone always in my pocket, I find myself taking photos of nature, whilst he is sniffing amongst the roots.
Spring always pleases me, I never tire of looking at the plants and watching them go from bare branches into blossom, fascinated by the process.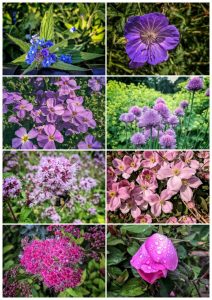 I love this time of year, and discovering the names of the plants; finding tiny guests sitting on petals; the gorgeous burst of colour; the fragrance permeating the air. Spring must brighten even the darkest winter hardened soul.
All these photographs were taken with my iPhone in the Kirkstall Abbey parklands and Abbey House museum walled garden.
Mindy Goose is a skilled arts project manager, community learning tutor and artist, she is involved in facilitating creative workshops and leading photographic group projects. Involving people is a big part of her work ethic. Working with learning disabilities, mental health, adults and children.
Mindy also volunteers for several community organisations, including Kirkstall Valley Community Association – she is editor for Kirkstall Matters, Bramley Elderly Action, Pyramid of Arts, and Love Arts Festival.
_____________
We encourage anyone living or working in West Leeds to use this website to tell their news. You can either use our Create an Article page, or e-mail us at news@westleedsdispatch.com.