Words & photos: Mark Stevenson
Originally this footpath would have started on Spen Lane, just down from Kepstorn Rise, but as it is now it starts on Kepstorn Close.
The area was called Well Close in the 1840s. Kepstorn was home to the Butlers, the owners of Kirkstall Forge in the 1800s.
It later became a 'Home for Mentally Defective Girls'. In 1939 there was a matron, cook and general attendant along with 41 "girls". The "girls" were aged between 21 and 49 all single and all had 'domestic' as their profession. Kepstorn was roughly where Woodbridge Gardens is now.
The footpath leads off into Morris Wood over a bridge that was built when the Railway came to town.
As you come out of Morris Wood, near Woodbridge Gardens, the old route of the footpath ends as houses were built on it. In the 1840s this part of Morris Wood was owned by The Earl of Cardigan and occupied by William Beckett Esquire. The old vanished route would have taken you to Kirkstall Grange.
I wonder if the Woodbridge Streets took their name from the Wood Bridge that crossed the rail track at the back of Abbey Gorse?
The part of the footpath that runs along the side of Church Lane Allotments may be the newest part of it, dating from the 50/60s.
As you come to the end of this bit of the footpath it joins the path at the Queenswood Sport Ground (not sure if that is the right name).
Here I noticed a brick from the Leeds FireClay Company. It may have been part of the platform for Headingley Train Station.
Where I noticed the brick it used to be the loading area for cattle at Headingley Train Station, which was at the bottom of the sports ground.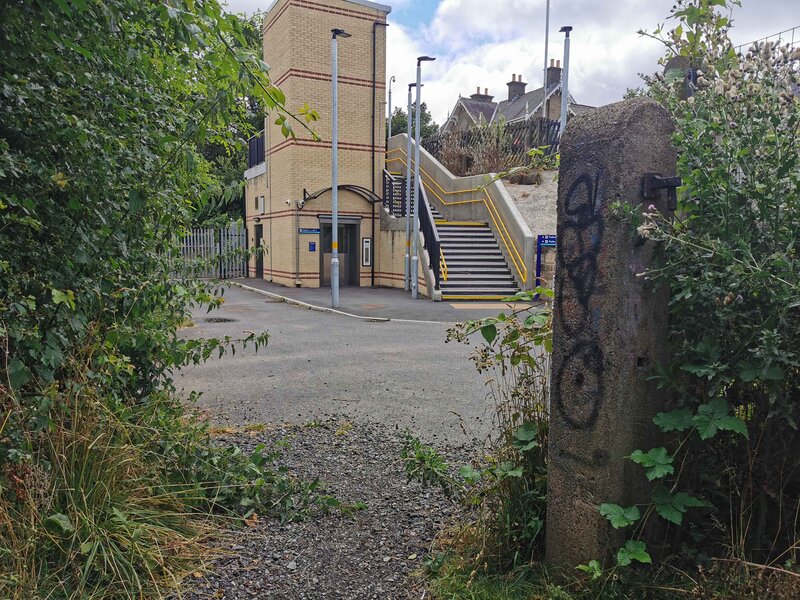 As you walk on you will come to Headingley Train Station and the footpath to your left will bring you to Queenswood Drive. The one to your right will take you to what is now Sayers Close.
The footpath at the back of Sayers Close is for the most part impassible and this is how the locals would like it to stay.
WLD first featured Kirkstall's threatened footpaths here.