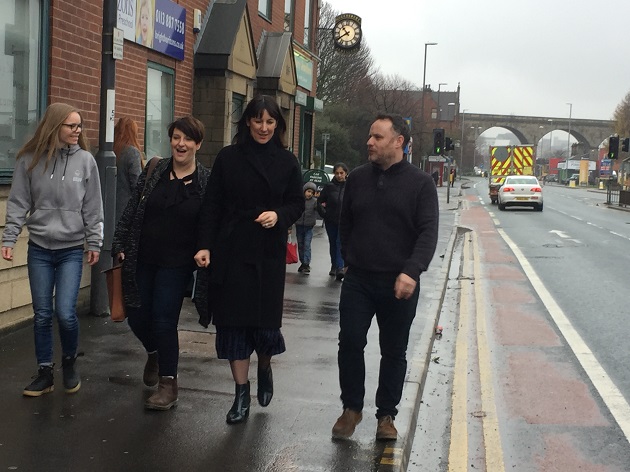 Almost three years to the day since Kirkstall was flooded local businesses and politicians have come together to call for the government to stop talking and start delivering vital flood defences.
Leeds West MP Rachel Reeves today joined business owners Seb McGowan from Viva Cuba and Hannah Mason from The Climbing Lab in calling for Government action. Her calls were also backed by Labour Leader Jeremy Corbyn.
Here, the West Leeds Dispatch looks at the issues still facing people living and working in the Kirkstall and Kirkstall Road area three years on from Boxing Day 2015 when the River Aire broke its banks and caused such devastation…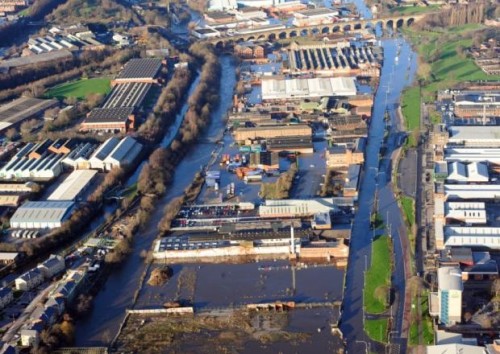 The Kirkstall Road traders
Viva Cuba owner Seb McGowan says a lack of confidence – and insurance premiums that have DOUBLED since Boxing Day 2015 – have been his biggest problems. He said:
"Since the initial impact of losing trade the biggest issue has been the insurance premiums, which have doubled in cost. I'm not the only trader with this financial problem.

"The community has rallied and supported us, which I'm grateful for, but the future is always a worry.

"The Environment Agency tell us we only experienced an one-in-100-year event, but I'm not sure if I believe them! It's ridiculous that a city as big and important as Leeds feels under threat whenever there's a prolonged period of rain – and that's not just Kirkstall but the city centre as well.

"Leeds is one of the major financial centres in the country and needs to be protected."
Mr McGowan's calls for action were echoed by Hannah Mason, who owns The Climbing Lab, which was flooded chest high just as it was about to open back in 2015.
Ms Mason said the business has had to spend £30,000 on flood protection measures even before she could find some insurance – and came withing a metre of being flooded again back in April. She said:
"I still feel really vulnerable. The weather has changed so much in the past 10 or 20 years. We've done what we can to protect ourselves but we don't know if our measures will be successful – and flooding is still a very real threat, as we saw in April.

"It's so important we feel protected."
Ms Mason said The Climbing Lab has been a big success despite the flooding problems and is set to open a third building – with a boulder climbing wall – off Kirkstall Road early in the New Year. She added:
"The business is strong, but flooding could still end it all, just as it nearly did last time."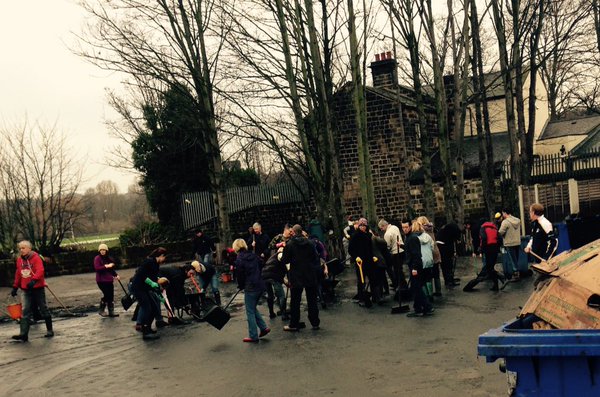 The community
Three years on from the floods and the community is still hard at work in its aftermath.
Phil Marken and the guys at Open Source Arts are still running their monthly volunteer-led riverbank clean-ups, which have cleared and help maintain a number of spots on the River Aire, from Armley Mills through Burley and Kirkstall.
Kirkstall resident Lucinda Yeadon helped lead the clean-up operation in the aftermath of the floods. Ms Yeadon, who was a councillor for Kirkstall at the time and now works for Kirkstall Forge developers CEG, said:
"We've shown a lot of resilience both as a community and as the businesses that are still here. The spirit people have shown has been incredible but that shouldn't overshadow  a lot of uncertainty.

"People whose businesses have survived after the floods have done so against all odds. It's time for the Government to end the uncertainty business owners on Kirkstall Road face."
Ms Yeadon said some new businesses had opened on Kirkstall Road since the floods, but that did not negate the fact that there were still challenges ahead.
The politicians
Labour leader Jeremy Corbyn today reiterated his backing for flood defences along Kirkstall Road.
In a statement, he said:
"When I came to Kirkstall three years ago, it was remarkable to see how the community had come together after the catastrophic floods that devastated the lives of so many people.

"And it was wonderful to visit Leeds again this year to hear about plans to protect the city and to see for myself how some of the homes and businesses that were lost and damaged have begun to make their recovery.

"But what's so important is that government lives up to its duty to make sure this can never happen again.

"Instead of broken promises, we must see the full funding of the new flood defences we need to protect all of our towns and cities so that we can rest assured that this can never happen again."
Leeds West MP Rachel Reeves is continuing to call on the Environment Secretary Michael Gove and Floods Minister Therese Coffey to provide funds to make sure Leeds gets the best possible protection against floods. Today Ms Reeves said:
"It's now almost exactly three years since the devastating Storm Eva floods, yet there is still no commitment from the Government to properly protect Kirkstall.

"While the city council's anti-flood proposals are welcome, the Government is risking people's homes and businesses by failing to release the necessary funds to ensure proper protection against a repeat of those devastating floods.

"They are guilty of abject and unacceptable failure when it comes to properly protecting the city, its residents and businesses.

"Coming up to Christmas, people will not be able to sleep soundly every time we experience heavy rains until the Government helps deliver full flood defences for Leeds."
The council
In November, Leeds City Council leader, Councillor Judith Blake, announced the city's plan to proceed with a two-step solution to provide flood protection for the area.
A planning application for ital flood defences to reduce the risk of catastrophic flooding along the River Aire in places like Burley and Kirkstall were submitted earlier this month by the council.
Last month council chiefs announced the city's proposal to proceed with a "pragmatic two-step solution" to provide flood protection measures for parts of West Leeds. This comes after the government said it was unable to offer funding above £65m towards the scheme which, when completed, would give one in 200-year protection against flooding.
Works will begin next year to deliver an initial one-in-100-year level of protection.
This will then be upgraded to the full one-in-200-year level with a further phase of work after the remainder of the funding has been secured.
Coun Blake said:
"While we are disappointed the government says it cannot offer us any additional funding at this point, having the £65million funding confirmed is welcome and is very important as it means we can get on with the important thing for our communities, residents and businesses and that is getting spades in the ground and getting on with this work.

"Our ambition to deliver the full one-in-200-year level of protection remains absolute and unchanged. This is a pragmatic two-step solution which means we can proceed and start the process of delivering the level of protection against the rising threat of flood events such as we experienced with Storm Eva that we know as a city we need."
The council is still awaiting a reply from the Government on its funding proposals.