Fancy going green fingered? A three-week winter gardening course is being held at Hollybush Conservation Centre.
Aimed at complete beginners and those wanting to improve their skills, join experts in the Hollybush garden and learn about what can be done in the garden over winter. Attendees will be creating a no-dig bed, finding out what we can still grow, making a winter craft and more.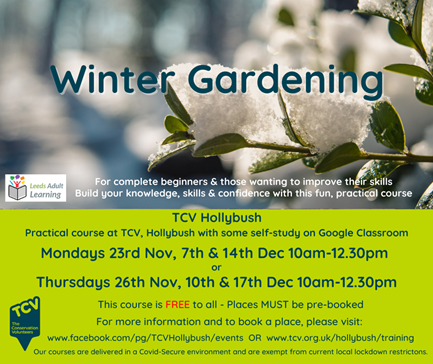 After each face-to-face session there will be some work, which will take around 30 minutes, for you to complete in your own time via Google Classrooms. A Hollybush spokesperson said:
"Our volunteering and training activities are exempt from current restrictions on social gatherings. This course will be taught on site at TCV, Hollybush in a Covid-secure environment.

You will be given further details about our measures to keep everyone safe and what you will need to do to comply with these as part of the enrolment process and once you are with us on site. We look forward to welcoming you onto our course."
The two courses run Mondays and Thursdays at 10.30am from next week. Details and booking here.