Leeds West MP Rachel Reeves has revived her monthly column for the Dispatch. Here, she reflects on the challenges of coronavirus and why she is privileged to represent the people of West Leeds.
A world of Zoom
It's been a strange and challenging few months and we have all had to find new ways of working and staying in contact with people. That means switching face-to-face meetings for online discussions.
Zoom has become an essential tool for me for keeping up with local GPs, care homes, head teachers, councillors and others throughout the lockdown.
It has been very useful, but there's nothing quite like meeting people in person. So, I was pleased when changes to the lockdown guidelines meant that I was able to finally re-start some social distanced meetings back in the constituency.
Community Hubs
Our community organisations in Leeds have been doing a great job helping people through these difficult times.
Last week, I visited Armley Helping Hands, BARCA, Kirkstall Valley Development Trust and New Wortley Community Centre to see some of their brilliant work.
As well as talking about the challenges they have faced, they all spoke of the support they have had from the local community and from small and large businesses.
It was heartening to see such great examples of people pulling together with a common purpose – to support the vulnerable.
I was also pleased to help out with the Bramley Care Bears/Bramley Elderly Action food shop for older and shielding residents and see the support they have been offering.
And, I joined those delivering food from BARCA to Jacky on the Wythers, who posts on a local community page when food is available and distributes it from her garden.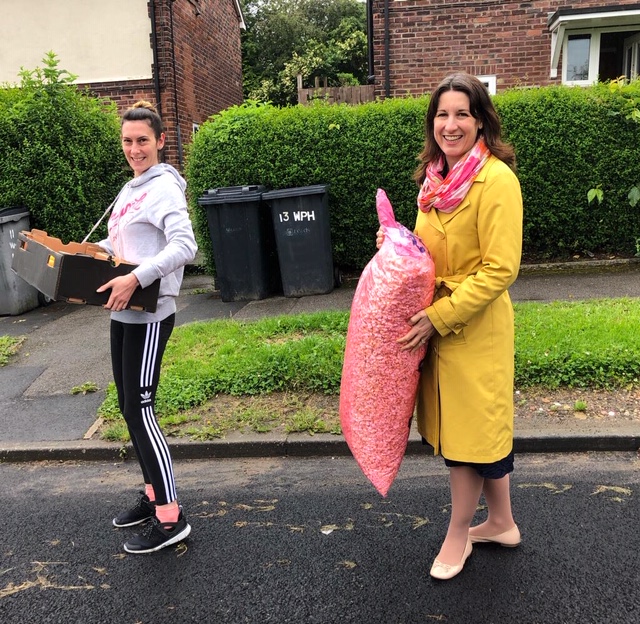 Delivering Armley Helping Hands packages with Richard gave me the opportunity to learn more about what these organisations have been doing during the lockdown period. It's a tremendous effort and I know their work is hugely appreciated.
Schools face 'immense challenges'
Schools have faced some immense challenges delivering on the Government's expectations. We all want children to be able to return to the classroom. But that has to be in a way that is safe for them and for teaching staff too. I've been in constant touch with school leaders in Leeds West to discuss solutions and raising their concerns at Westminster.
Before Covid-19 I regularly visited schools. However, that was not possible during the lockdown, so it was good to be able to thank Danny Carr (Dixon's Unity) and Paula Head (Cobden Primary) in person – at a distance of course!
I have also just filmed the very first "Children's Question Time with Rachel Reeves."
I was really impressed by the quality of the questions that came from children at Armley Park, Beecroft, Burley St Matthias, Hollybush, Ryecroft, St Barts, Summerfield and Valley View.
They showed a real understanding of current affairs, including the Black Lives Matters campaign, the effect of Covid on charities and the impact of climate change.
However, I was unable to answer the question about when the local Nandos would re-open!
Supporting local businesses
Many of us have changed our shopping habits in response to the Covid crisis. For some that has meant shopping much closer to home.
As the lockdown rules have eased, it provides a good chance to give some much-needed support to local shops, cafes, bars, restaurants and other businesses.
On a visit last week to Bramley Town Street, I grabbed a quick takeaway lunch from Persepolis which is soon to open as a restaurant as well as continue as a takeaway. A
fter I'd finished the day, I also managed to squeeze in a visit to the Sheesh Mahal for an excellent curry.
Local Hero Awards
Hopefully, you will have seen details of the West Leeds Local Hero Awards on social media and in the Dispatch.
I was inspired to create these awards after Rana Singh, the site manager of Hollybush Primary School, contacted me to tell me about the work the head teacher Briony Robertson had been doing to support children and families.
Picking up a newspaper, switching on the news or scrolling through social media can be pretty depressing some days. So, I wanted to celebrate and highlight the many acts of kindness and generosity that are going on in West Leeds.
Briony was the first recipient of the new award, our second award went to Elizabeth Richardson of Porterhouse Cakes in Armley, and our third was awarded to Sam Horner of the Leeds Rhinos Foundation.