Fancy some fireworks, a fire and food this Bonfire Night? JILL BUCKLEY brings you a guide to the latest events from across West Leeds …
Armley
Armley Conservative Club on Theaker Lane holds its Bonfire Night Party on Saturday 4th November starting at 6:30pm. As well as the bonfire and fireworks there'll be hot food with pie and peas and hot dogs.
Bramley
Join the crowds in Bramley Park on Friday the 3rd November for Leeds City Councils bonfire and firework display. Bonfire lit at 7pm followed by fireworks at 7:30pm.
Calverley
Calverley Golf Club invites you to its bonfire and firework display on Saturday 4th November. The fire will be lit at 6:30pm followed by fireworks at 7pm and we are promised an event even better than last year's.
Farsley
Farsley Working Mens Club hosts the Farsley Community Bonfire on Saturday the 4th November. There'll be not one but two firework displays! The first is at 7:30pm and the grand finale at 8:30 pm. The bonfire will be lit at 6:30pm and pie and peas will be available.
Farsley Celtic's Throstle Nest is the venue for their Mega Bonfire and fireworks display on Sunday the 5th November. Gates open at 5pm with fireworks at 7:30pm. There will also be a funfair including a ghost train, kids rides and the Miami Fun House. There'll be a Barbeque and bar and entertainment.
Kirkstall
Leeds Postal Sports Association Club on Beecroft Street holds its annual bonfire night celebrations on Friday 3rd November this year. The fire will be lit at 7:30pm, fireworks will follow at 8pm and for those who fancy themselves as the next X Factor contestant there'll be karaoke from about 8:30pm. Pie and Peas will be available for £1.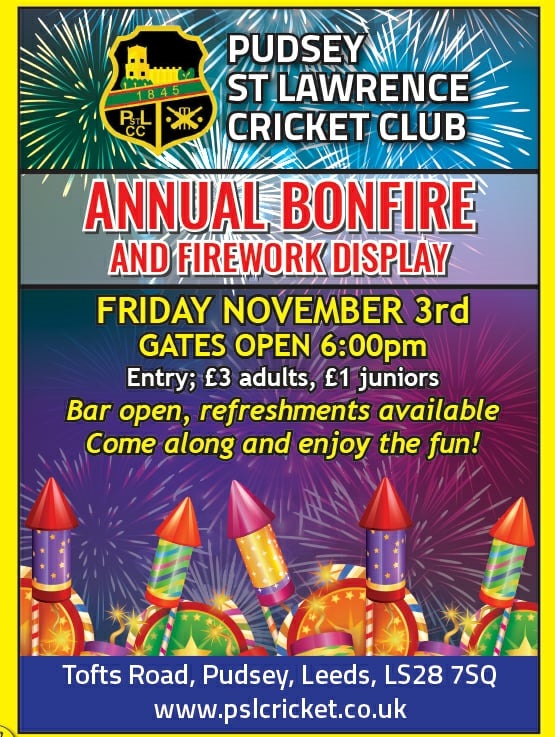 Pudsey
Pudsey St Lawrence Cricket Club on Tofts Road holds its' annual Bonfire and Fireworks display this Friday the 3rd of November. Gates open at 6pm. Entry is £3 for adults and £1 for children. The bar will be open and refreshments will be available.
Saturday November 4th is the Firework display and bonfire at Pudsey Congs Cricket Club. It's free entry open from 5:30pm, with the bonfire lit at 6pm and fireworks from 7:30pm. Refreshments available with pie and peas on offer as well as pizza from Abbiocco Pizza and Sandys Griddle.
Also on the 4th is the Fulneck Golf Club bonfire and fireworks. Gates open at 6pm, with the fire lit at 6:30pm and fireworks at 7pm followed by more at 7:45pm! There will be hot and cold drinks, parkin, sweets, pie and peas and burgers. Admission is free but please make a donation in one of the charity tins if you can.
November 5th at the Bankhouse Pub bonfire and fireworks display with pie and pea supper. Bonfire at 6pm, fireworks at 7pm.
Rodley
Join the team at the Owl on Sunday November 5th from 4pm The bonfire will be lit at teatime, then there's fireworks at 7pm and live music from The Dunwells from 7:30pm. There'll be an inside and outside bar, hot food outside, sweet stall and bonfire treats.