A prestigious art exhibition is running at Sunny Bank Mills in Farsley.
Forms Assembled in the Light: The KPP Prize for Art, Architecture and Design, runs until October 28, and features 33 artists from across the UK. It has a prize of £1,000 for the winning entry.
It is inspired by the parallels between art, architecture and design and will be housed in Sunny Bank's art gallery, a 3,000 sq ft art, design and culture space in a light and tranquil old cloth warehouse.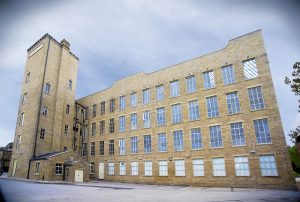 Award-winning architects KPP, responsible for the regeneration of the mills, are sponsoring the exhibition.
Rachel Slater of KPP, based in Leeds, explained:
"Sponsoring Forms Assembled in the Light was an opportunity for us to collaborate with the Sunny Bank Gallery on a unique level.

"The different artistic skills of the team produced a brief which encouraged artists to submit works in any medium, scale and subject. The variety and quality of the submissions has exceeded our aspirations for the exhibition and we are excited about sharing it with the public."
John Gaunt, co-owner of Sunny Bank Mills, said:
"This is a very special exhibition for us, due to our close and award-winning relationship with KPP, whose imagination and technical expertise have helped to transform our old mill into a flourishing 21st century office and leisure development and community hub.

"The exhibition has caught the imagination and attention of talented artists from all around the country. The result is some stunning work that is both valuable and will go on to other prestigious galleries after ours."
There is a private Meet the Artists and Prize-giving event on Friday, October 12.
The exhibition is free. It runs until 28th October. The Gallery is open from 10am – 4pm Tuesday to Saturday and 11am – 4pm on Sundays.
The Gallery is the creative hub of the Mill and the local community, playing host to a rolling exhibition programme of art by local, regional and national artists, supporting the performing-arts and concerts within the mill spaces and providing a venue to hire for small events.
During the past seven years Sunny Bank Mills, one of the most famous family-owned mills in Yorkshire where YTV's Emmerdale and Heartbeat were once filmed, has become the home more than 70 companies, who employ a total of 355 staff.