By Damon Cooper, Leeds 2023 correspondent

Imagine Banksy Dismaland or a Winter Wonderland that costs a fortune to enter, but it's at an abandoned office in Leeds where you can visit for free this week.
Only it's called Waking The Artist: Exhibition better and well worth exploring during the school holidays.
A sense of fun begins when transported into a scene out of The Last Of Us or The Super Mario Movie with a showing of large homemade mushrooms welcoming visitors into a journey like no other.
Materials for this fungi-inspired display were sourced from Farsley's own Scrap Creative Reuse Arts Project Ltd​ based at Sunny Bank Mills. That shop is an Aladdin's cave of recycled materials for super fun and quirky projects like this.
Seeing all of this on the eleventh floor of the Merrion Centre amongst 360 panoramic views of a crane-littered Leeds skyline can give you a sense of hiding from zombies or waiting for Bowser to appear.
Frolicking through giant daisies like dancing fairies whilst being captured by an official looking photographer, I caught up with the excitable curators of this exhibition, Sammy Gooch and Camille Hewitt who were pleased to finally showcase their vision to the city.
"Its great overhearing people's comments on what they see," Sammy told me.
Other highlights from Part One on the top floor included a jungle featuring monsters and a glorious Woolly Mammoth.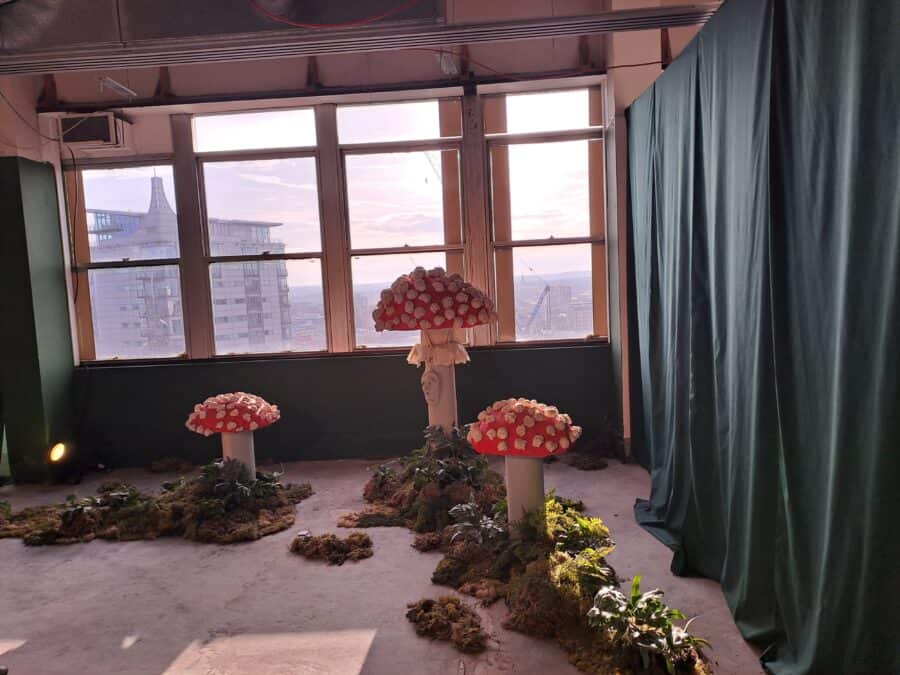 Walking down the stairs to Part Two, you're initially confronted by a stack of old television sets, not too dissimilar to scenes from Charlie Brookers 'How TV Ruined Your Life' series and the moving pictures on the screen were put together by Armley Studio holder Archie Brooks.
Brooks. Brooker. There's definitely some synchronisation going on here, even if it's years apart and totally unrelated.
There's a giant love heart for loved-up couples to have a pose in and a lovely book of creativity to enjoy. On the same end of the room there's a wall of photos and one of them features a friend of mine cosplaying as WWE wrestler John Cena with his two Guinness world records.
Crossing the paths of misguided art critic, Christopher P Jones was certainly an experience as he defended what was essentially a parade of junk and tried persuading me otherwise. I guess the old saying that one man's junk is another man's treasure was very present here.
I was offered a tissue to wipe my tears at what he saw as stunning art but Mr Jones should have used them to wipe the mischievous smirk off his face. For the record, my knees were hurting so that might explain the pain on my face and certainly not life-changing art!
Thankfully, spaces to sit down were in abundance and this is best enjoyed with a drink from the tenth-floor bottle shop.
WAKING THE ARTIST EXHIBITION
Dates: Weds 5th to Sat 8th April
Times: 12pm till 8pm
Location: Wade House, 41 Merrion Street, Leeds, LS2 8NG.
Blink and you'll miss it so get yourselves down for something totally unique.
Sponsored content