by Hon. Alderwoman Elizabeth Nash
At the rear of St Stephen's Church in Kirkstall in the south-east corner is a vault containing the remains of Richard Oastler 1789-1861, who was dubbed at the time, "The Factory King".   
At first he was an ardent campaigner for the abolition of slavery and then he turned his attention to the appalling conditions in mills and factories when children as young as five years old had to work.
Prior to the machine-age, people lived by the natural rhythms of the sun and season and earned their living by working from home by spinning and weaving or making other objects to sell or working in adjacent fields to produce food for themselves or sale in local markets. Then later, working in mills meant that they were paid for their time at work rather than for the finished product.
Benjamin Gott and John Marshall of Leeds harnessed steam power in bigger mills employing hundreds of people. But even before then our Industrial Museum at Armley was powered by water turbines – the first in the country which were more efficient than waterwheels.
But the hours of work in the early 19th century were appalling. Oastler campaigned for the Ten Hour Act restricting the hours of work for women and children. 
He organised rallies and demonstrations and, although not a Member of Parliament himself, he supported other members regardless of party to get the Act through Parliament which it eventually did in 1847. However, it was not until 1901 that the working age for children was raised to 12 years of age.
Nevertheless, ten hours was a vast improvement on the sixteen and eighteen hour days. Impoverished parents often gave or sold their children for "apprenticeships" which was nothing short of slavery.   
The Washburn Valley north-west of Leeds was infamous for keeping children housed in poor conditions where they had to sleep several of them in one bed and food was far from sufficient.
If a machine or a loom developed a fault then most mill owners required the repair to be made while the machine was still operating as a shut-down of the equipment would cost too much money.   
Many children, because of their size had to crawl under machines to affect the repair with tragic results.
Undoubtedly, and eventually, the higher wages of workers in mills and factories gave workers more money to spend on food, clothing and household items. But this came at a great cost to workers` lives. Workers could pay into Friendly Society Insurance schemes, and on display at the current exhibition at the Leeds City Museum called "Living with Machines" is a huge banner commemorating 100 years 1760-1860 of "The Armley Clothiers Loyal Friendly Society".
Another huge eye-catching banner made of silk and wool from the National Union of Railwaymen – now the RMT states "We succour the orphans".   
Local union members raised money to support the children of workers who had been killed.   By 1917 the Union`s Orphan Fund was supporting almost 3,000 children. Today the RMT still has a benefit fund for union members who have died in service.
It is inconceivable today that we could live without machines. One has only to look round one`s home to see how many we own and use. But we should never forget the sacrifice that our predecessors made for our ease of living. The Living with Machines Exhibition has on display early machines and their subsequent developments and is well worth a visit.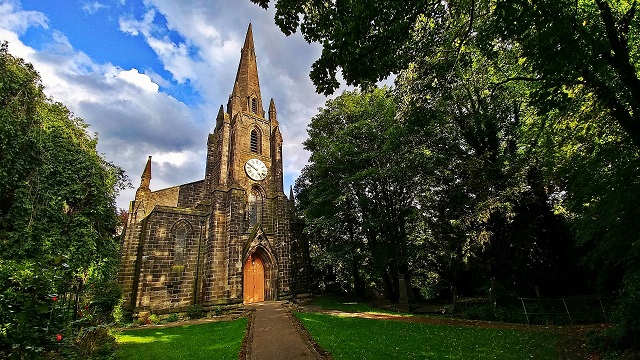 Although a Leeds man, there is no statue recognizing the endeavours of Factory King Richard Oastler in Leeds apart from the plaque at the rear of St Stephen`s Church and a fairly recent blue plaque supplied by Leeds Civic Trust commemorating where he was born.   However, after his death there was a national campaign for a statue supported by the Leeds Intelligencier newspaper.   
Subscribers voted for the statue to be erected in Bradford and which it was originally in front of the important Forster Square Rail Station. Subsequently, it was removed to another location in the northern end of the city centre called Oastler Square.
The City Museum is free admission and is open Tuesday-Friday 10am-5pm and Saturdays and Sundays 11am-5pm. "Living with Machines" exhibition runs until 8 January 2023.
Read more on Oastler – and his childhood as a pupil at Pudsey's Fulneck School, here.
Sponsored content