In this month's column, Leeds West MP Rachel Reeves talks about how people and organisations are getting back on their feet following the Covid-19 lockdown and pays tribute to the work of "local heroes". 
Work Progresses at St Mary's Hospital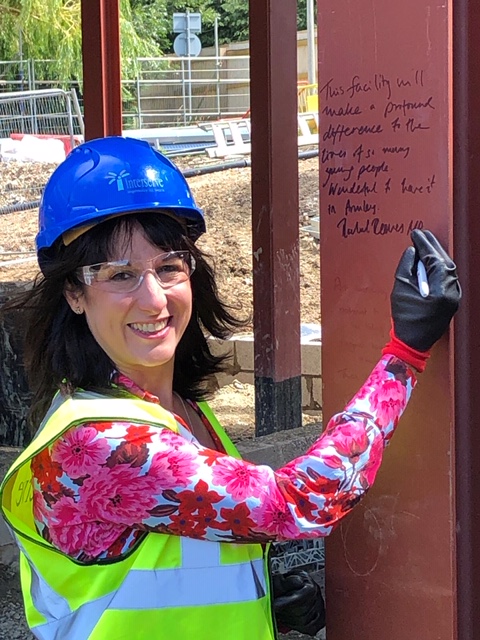 I was pleased to see at first hand work well under way at St Mary's Hospital on the new Children and Adolescents Mental Health Facility. It is vital that the Government prioritises further investment in our mental health services, especially given the increased strain young people are experiencing due to Covid-19.
Supporting young people's mental health, particularly through prevention and early intervention, is absolutely crucial. On average, one in four people will experience a mental health problem at some point in their lifetime, and half of adult mental health illnesses develop before the age of 14. So, it was inspiring to visit St Mary's and I look forward to the completion of the new unit next year.
Joining Backyard Bingo in Bramley
I made a guest appearance as a bingo caller when I dropped in on Bramley Elderly Action to see some of the creative ways they have developed to continue their work during the pandemic. 
Their fantastic efforts have included early morning food shopping, delivering essential supplies to the elderly and those who might be shielding, phone calls and welfare checks – and now they've come up with another inventive way to help ward off lockdown loneliness and strengthen neighbourly bonds. Backyard bingo!  
Despite some terrible weather, the residents of Airedale Cliff held their very first Backyard Bingo session – with me as the bingo caller. Face-shields, gloves and a megaphone made for a very different sort of bingo game.
However, despite the social distancing and necessary safety measures, none of the fun was lost.  We spent a very happy half hour playing the game before rain stopped play. Everyone who took part assured me that Backyard Bingo is set to become a new street tradition. 
Meeting Key Workers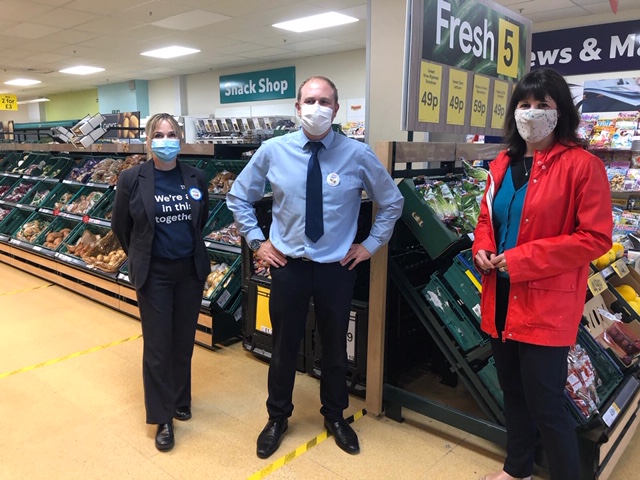 Throughout the last few difficult months, an army of key workers have kept us going. There's the more obvious examples such as our brilliant NHS staff and care workers in general, but there's also a whole host of others, such as postmen and women, retail assistants, bus drivers – the list goes on.
One of the nicest parts of my job is that it gives me an opportunity to thank some these key workers in person. I recently visited Tesco in Bramley to meet the manager and staff to thank them for the part they have played in keeping us fed throughout the crisis.
The retail industry has undergone so many changes through the pandemic, and has had to be incredibly adaptable and resilient in the face of major challenges.
A few months ago we would never have imagined shops where hand sanitising, perspex screens, outdoor queuing and mask-wearing were the norm, let alone considered that shelves would be emptied of toilet roll and pasta. Retail workers have had to work through all this, for the benefit of others. We owe them a huge debt of gratitude.
I was also able to thank some of our bus drivers who have kept us moving in these difficult times. The service they provided has been essential for other key workers, especially NHS staff needing to get to our hospitals.
My visit to the Bramley Bus Depot was a chance to meet some of the drivers and backroom staff. They too have made an invaluable contribution in these strange times, and I hope I speak for us all when I say we are incredibly grateful.
Armley Library
It was only a few years ago I successfully campaigned against a reduction in opening hours for both Bramley and Armley libraries.
Fast forward to today and both are thriving community hubs, offering so much more than a book-lending service.
Following a considerable financial investment from Leeds City Council, Armley Library and Community Hub has undergone significant improvements which befit such a landmark building.
As well as seeing the improvements first hand, I was able to talk to staff about the services they provide and how they have adapted in light of the coronavirus guidelines, including a click-and-collect book lending service. This significant investment will secure the future of the library and hub for many years to come – which is great news.
Local Hero Awards Provide Inspiration
My Leeds West Local Hero Awards are running until the end of August. I have received so many emails about the work and impact these unsung heroes make to our community.
It has been genuinely inspirational to read about so many individuals and organisations that just get on with making other people's lives better, with no thought of reward or recognition for themselves. 
These awards have been so successful that I am now considering running them annually. Good news stories can sometimes seem to be in short supply, but it is a testament to the people of West Leeds that you don't have to look too far to find so many brilliant examples of community spirit.
At the time of writing, we have had the following worthy winners – Briony Robertson, Elizabeth Porterhouse, Sam Horner, Sam and Robert Esterine, Cherie Cartwright, and Craig Parker and Rebecca Durrant.