Sponsored content
New Pudsey takeaway Authentic Greek Food has barely been open a month – but it's already earning rave reviews on social media for its delicious high-quality meals.
Owner Eriol Tzallo is of Greek heritage and has a genuine passion for the best Greek food and produce. His new venture, nestling at the back of the Town Hall on Manor House Street, captures his deep love of preparing, cooking and making people happy through quality food.
This temple to Greek food has been carefully decorated to reflect ancient Greece and is perfect for families and adults who appreciate quality.
Eriol sources only genuine produce sourced directly from trusted Greek suppliers – from the meat and Olives through to the cheese and everything else in between.
Eriol wants to be judged on the delicious food he and his small team of chefs produce, using the best quality ingredients, the best cuts of meat and the best cheese. He's keen to stress it's not your typical takeaway!
Eriol says: "I love cooking – and eating – Greek food. It's a passion of mine, it's who I am. Proper Greek food has a lot of variety, flavours and textures and you have to be a proper chef to cook our dishes properly. I have been working in kitchens in Harrogate and Leeds for many years.
"The staff is well trained and experienced, and one of them worked in Greece for 20 years."
The chefs at Authentic Greek Food cook a variety of dishes from restaurant-quality kleftico to specials like giouvorlokia soup (delicious and healthy meatball soup) to baked gemista (stuffed tomatoes and peppers with rice and mince or rice and vegetables). There are Greek salads and more besides.
Delicious appetisers include humous, tirokafteri and tzatziki, all with pita bread, plus a selection of dips. There's a selection of wraps using the best chicken or pork gyros, Greek sausages and a selection of authentic box meals.
All are freshly prepared. A new menu is due out soon!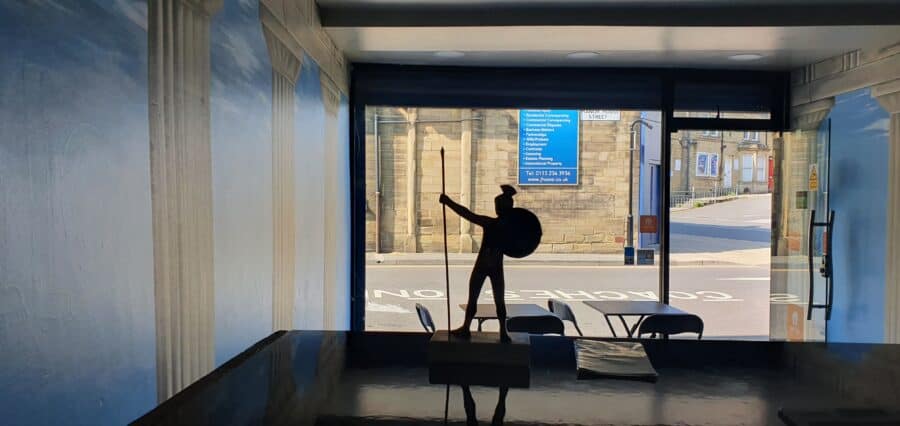 As you would expect from an authentic Greek experience, you get a friendly welcome and top service. And the place is always spotlessly clean – hygiene is so important to Eriol.
Eriol, 36, took over the place in May and has spent the past few months carrying out painstaking work to bring the building and facilities up to scratch. He's friendly, hard working and respectable – and you can tell he takes his food seriously.
Eriol, who is of Greek-Albanian descent, came to England six years ago and is always looking for ways to improve his food and service.
There's even an area at Authentic Greek Food where you can sit in and eat in comfort and warmth if you'd like to spend some time there with family and friends.
Authentic Greek Food features an original taste of selected Greek food. It is based in Manor House Street, Pudsey, and can be found on Trip Advisor and Fork. Its Facebook page can be found here.
It is now open from lunchtime until late – 12pm to 10pm from Monday to Thursday and on a Sunday. On Friday and Saturday it opens 12pm-midnight.
To order, call 0113 2047870 or 07988 048678.