As the cost of living crisis escalates with rising food and utility prices, volunteers at the Bramley food distribution session run by the Bramley Care Bears group are helping people increasingly desperate for support.
WLD last visited the session back in March, and John Baron and Liam O'Sullivan spoke to both users and volunteers about how rising costs are impacting lives this winter.
Food bank users
Mike* uses the food bank because he struggles to pay his gas and electric bills – at the time of writing he was waiting for his second winter fuel payment.
"I have been checking every day for the past week, but no luck," he said ruefully. His gas has already gone up by a third to £600 a quarter for his small flat – and that's before the October price rises.
"These sessions are very important – my money has usually gone out on bills within 10 days of being paid. I can't afford to both eat and put the heating on, but here I can get the essentials to keep me going. At the moment I don't know what I'd do without it."
A homeless man told WLD: "This kind of place is important for everyone at the moment. They need to be open every day. Nobody listens to us though, politicians don't care, we're the forgotten people."
One woman, who had just started a new job, said: "Everyone's struggling, even those who are working. Being able to come here has been a Godsend while my benefits stopped and I get paid from my job. I hope I won't have to come as often, but I think I'll still need it sometimes – and I have a far from extravagant lifestyle!"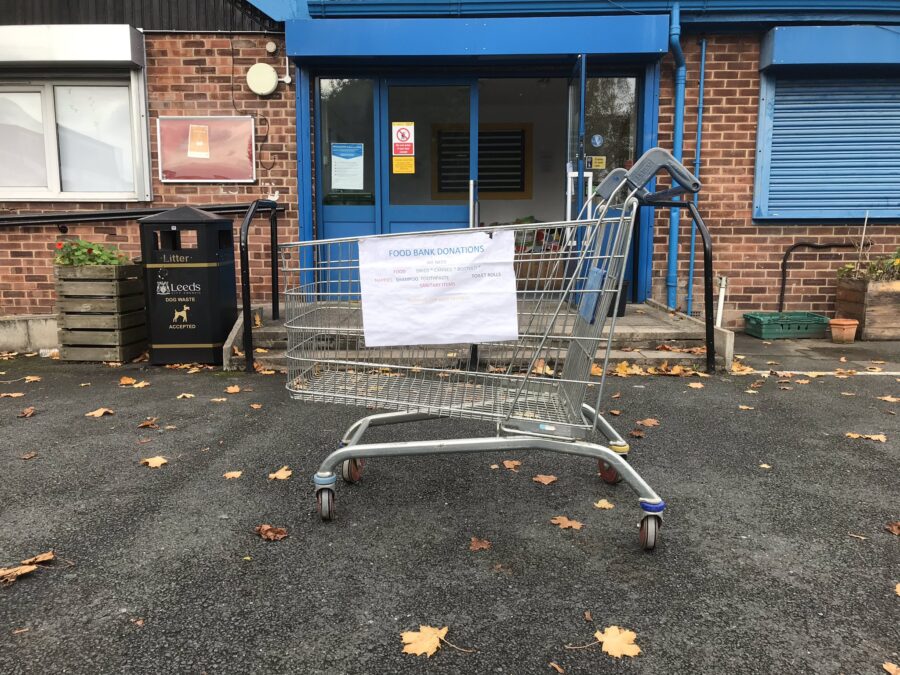 The volunteers
Pat Whitley volunteers to help distribute food, and warned of a worsening situation. She said: "It's getting worse. We're getting more people coming that have no electrics, they have nothing, and it's heart-breaking really.
"It's going to be really hard because a lot of people are struggling with electrics, a lot come that don't even put their electrics on. They can't pay it.
"It's fantastic to see their faces when they're picking stuff up and they're so grateful. When they're going out they thank us for what we're doing, and it's nice to be appreciated, but there's a lot of people where it's heart-breaking. They'll sit outside on the wall with their heads down, and it's so daunting.
"I'm glad we can help them people. But there's more and more coming than there used to be. When we first started it was the odd one or two, but now it's more.
"There's a lot of people that come in that might not need help getting food, but can't cook because they've got no electricity or gas."
Pat says she is seeing an increasing number of homeless people attending and added: "We've got a lot of homeless people come in. We never refuse them, we always give them a bag of something to take away so that they can eat something, but it's so heart-breaking."
Donations of food come from local supermarkets, independent businesses and individual donations.
The Care Bears Food Distribution sessions are run by Angela McConnell. She said they weren't just about food distribution, but about showing people you care and helping people who need it.
"People are starving," Angela said. "I've had a six-year-old come up to me and say 'I cook my own tea'.
"Things like that is what started us off. We were like 'we can't be having that'."
"We aim to help everybody who needs it," Angela added. "It's what community is all about."
If you can help, or if you need help yourself, contact Bramley Care Bears on 07398 012399.
The Care Bears currently run food distribution sessions at Bramley Community Centre on Sundays from 1pm to 2pm and Fridays from 11am to 12pm. More details on their Facebook group.
*Name changed to protect identity.