So Pudsey's Post Office is under threat of closure. The organisation has said it is seeking "partners" for 37 of its directly managed branches – and that includes the popular branch on Church Lane, writes John Baron.
Last year, the firm announced 93 other branches were looking for "partners", nearly half of which have now relocated into retail stores, including WH Smith.
Roger Gale, sales and trade marketing director at the Post Office, said this week:
"The Post Office's network of more than 11,600 branches is easily the largest in the UK, with 17 million customer visits a week.

"The vast majority of these branches are run with partners, and in the locations announced today we believe this will also be a more sustainable approach for the long term. With consumer habits changing, and the high cost of maintaining premises in prime high street locations, franchising helps us to keep services where our customers want and need them.

"We will take time to identify the right partners over the coming months and all proposals will be subject to local consultation."
You can understand some of his points. Times are changing on the high street and the way people communicate with each other is changing as well. What used to be a letter to someone is a post of Facebook rather than posting via first class stamp.
But if I cast my mind back a couple of weeks, I was stood in Pudsey Post Office, waiting to post a letter. It's no exaggeration to say the place was rammed (it was after Christmas). People were sending parcels and letters, and the young couple in front of me were sorting out their passports. Another was sorting out broadband.It was – is – a important place where the community gathers to go about its business.
Pudsey is big enough to deserve and sustain its own profitable post office, there's no two ways about it.
There were people of all ages there, but a large percentage were older folk and you do wonder what some of the more vulnerable members of the community would do if a franchisee wasn't forthcoming in Pudsey. The post office is a VITAL – amost unique – resource for many in our community. It simply can't be allowed to leave.
@WLDispatch lived there for 16 years, used it weekly, despite being a programmer and using digital means daily

— Russell Garner (@rgarner) January 11, 2017
If the service was due to become part of an existing shop in Pudsey, which one would be large enough to accommodate it? How will services will suffer if they are forcing them into a smaller space?
The other – possibly most important – issue is the impact on Pudsey as a town centre. I've seen some posts on social media labelling the decision as another nail in the coffin for Pudsey. "There'll be nothing left there soon is we're not careful," said one.
@WLDispatch save it 100%

— Mark Neve (@mjn1981) January 11, 2017
I've written before about how Pudsey seems to be looking a little tired these days. I wrote back in September:
"Uneven paving stones (yes, I know the ones outside B&M have been done in past 12 months but it's still a problem in the town) and poorly maintained paths, weeds growing on the side of pavements, a Saturday market that's in need of a real boost (and some proper promotion). The list goes on …"
Pudsey can ill-afford to lose services like this.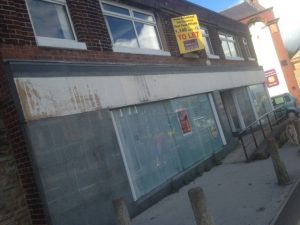 Will the existing building – next to the empty former Santander Bank – become another empty shell? There's a danger.

Pudsey people now need to stand up an be counted.
The Post Office says there will be a public consultation over the proposals. Good – people need to have their say, perhaps even launch a campaign.
If you want to keep it, you'll need to fight for it.