Uniting for World Parkinson's day, a new Pudsey Dancing with Parkinson's group have performed along to the 60's and 70's hits sung by the Giving Voice Choir.
The two charitable organisations Ascendance and Giving Voice Choir, who work closely with members affected by the disease, came together for the first time in an energising pop up performance to unsuspecting shoppers at the White Rose Centre.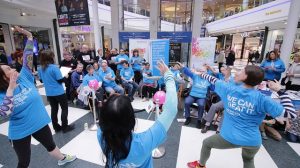 Rachel Wesson, artistic director of Ascendance, said:
"We are proud to be part of this exciting campaign to throw an international spotlight on people with Parkinson's and the issues that they face living with this neurological condition.

"It is vital as many people as possible understand what it is like to live with Parkinson's, and why improved support is so necessary and the quest for a cure is so important."
Unite for Parkinson's, a campaign launched last year by two of the world's leading Parkinson's charities – Parkinson's UK and the European Parkinson's Disease Association (EPDA) – aims to raise international awareness of the condition on World Parkinson's Day each year by using the #uniteforparkinsons hashtag on their social media posts, and tying this to local events.
Rachel is currently setting up new dancing for Parkinson's Classes in Saltaire, Meanwood, Otley and Pudsey. To get involved, e-mail classes@ascendance.org.uk.