Council members have clashed over plans to expand Leeds Bradford Airport, as the issue is fast-becoming one of the most contentious planning disputes in the history of Leeds City Council, writes Richard Beecham.
A committee of decision-makers met this week to discuss the latest on Leeds Bradford Airport's proposed £150m rebuild, after thousands voiced their opinions both for and against the plans.
The controversial plans, which would involve building a new eco-friendly terminal to accommodate more flights, surfaced last year, and have been subject to fierce debate ever since.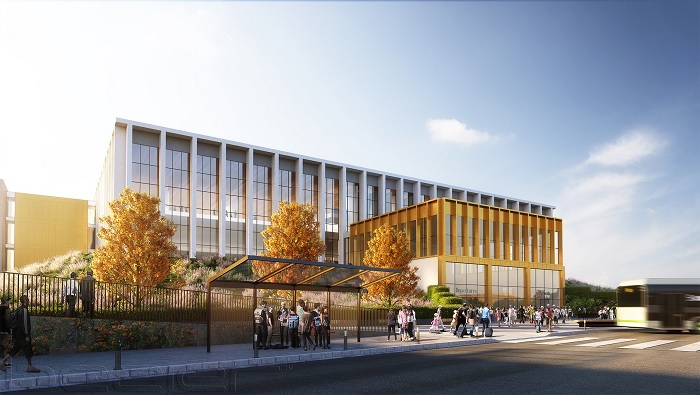 Debates continued into the online council chamber this week, as members of the authority's city plans panel debated the merits and drawbacks of the application for more than three hours, following the ending of the plans' public consultation period.
Those speaking out against the scheme claimed the supposed eco-friendly benefits of the building would be outweighed by the environmental harm from extra flights, while others supporting the plans spoke of the economic benefits it would bring to the city.
The debate began with Leeds Bradford Airport chief executive Hywel Rees addressing the meeting. He said:
"The existing terminal building, which I hope to demolish, was built in 1965. Any of you who have used the airport recently will know it is not really capable anymore of providing the levels of customer service that the modern world expects.

"For people with reduced mobility and sustained mobility, we need to modernise the building – it is 55-years-old.

"We have worked hard to make these proposals as sustainable as possible – the first area is in terms of the airport and its operations will be net-zero [carbon emissions] by 2023. These are the carbon emissions we can control very closely.

"It is a £150m investment with short term jobs in construction and longer-term higher-paid jobs as the airport develops."
Coun Neil Walshaw (Lab), who is also chair of the council's climate emergency committee, claimed advice given to the councillors to not consider emissions from air travel when making a decision on the airport was "extremely concerning".
He added:
"It's an acceptable building, but it is enabling things that are unacceptable."
Leeds City Council officer Matt Hills explained that the council has opinions from a lawyer, and that air emissions from international and domestic flights were being dealt with by the UN and the UK government respectively.
Commenting on the application, Coun David Blackburn (Green, Farnley & Wortley) said:
"I don't believe it's a case of taking passengers from Manchester or London, I believe it is the industry – everybody is trying to expand.

"The industry is trying to expand the number of flights, and as a world we can't afford this. We need to reduce the number of flights, not increase them."
Coun Colin Campbell (Lib Dem) said:
"I am concerned that we are going to increase the amount of pollution in the Leeds district. We seem to be relying on other people being good to have an increase here, but everyone should be making an effort.

"It seems obvious to me that air quality will deteriorate. I cannot believe that all those one and a half million extra vehicle movements to the airport won't produce more than a negligible effect."
However, some councillors questioned whether rejecting the application was worth the hit to the region's economy, if it would only be accepted on appeal by a government planning inspector.
Coun Dan Cohen (Con) said:
"If we should be considering emissions coming from domestic and international flights, I think this is a problematic application. If they are not things we should give significant weight to, there are positives in this application that need serious consideration.

"We need to disabuse ourselves of the notion that if this doesn't go ahead, people aren't going to go elsewhere – they are. People are going to fly."
Coun Graham Latty (Con) supported Coun Cohen's comments, adding: "Nobody has mentioned the benefits to Leeds as a city of having an airport that people when they land there aren't looking at a pretty run down, old fashioned, inconvenient airport.
"We want Leeds to be a major European city, and that means attracting people here. The airport would be a major factor in this."
Coun Elizabeth Nash tried to take a pragmatic approach, adding:
"Councillors are between a rock and a hard place – clearly we are all concerned about the environment and we are under pressure from virtually all our members of parliament to turn down this application.

"If we do turn down the application, there will be an appeal to the secretary of state and it will be granted. We need to make the best we possibly can over the development of the airport."
A final decision on the application is set to be made later this year.
Please support community led independent journalism…