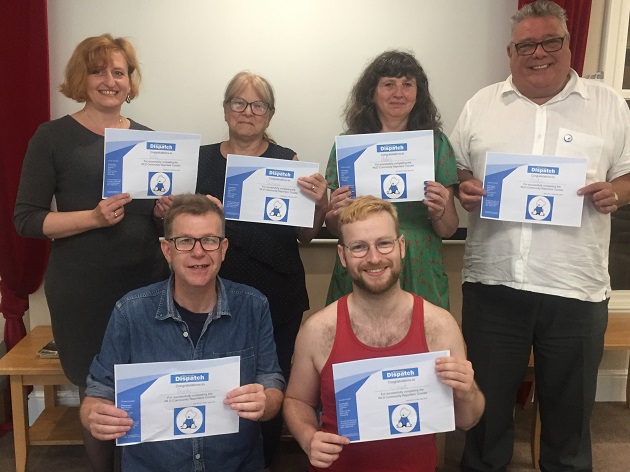 Another six budding community reporters have graduated from the second West Leeds Dispatch community reporters' course.
Over six weeks at Beech Hall Care Home in Armley, participants looked at basic photography, writing articles, headlines, ethics, law, video and podcasting, among other things. All successfully completed the course.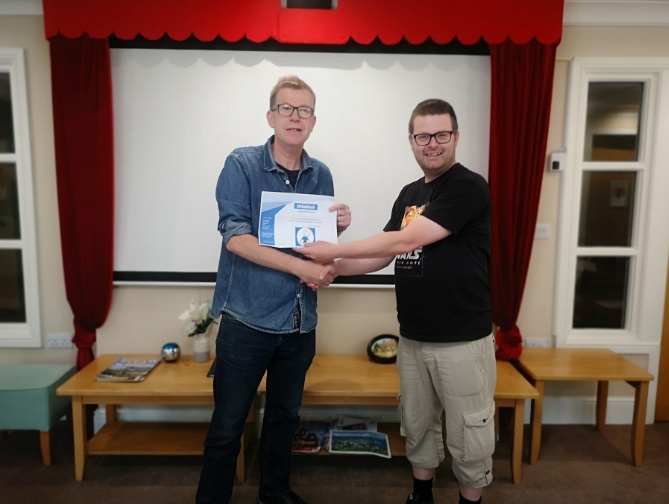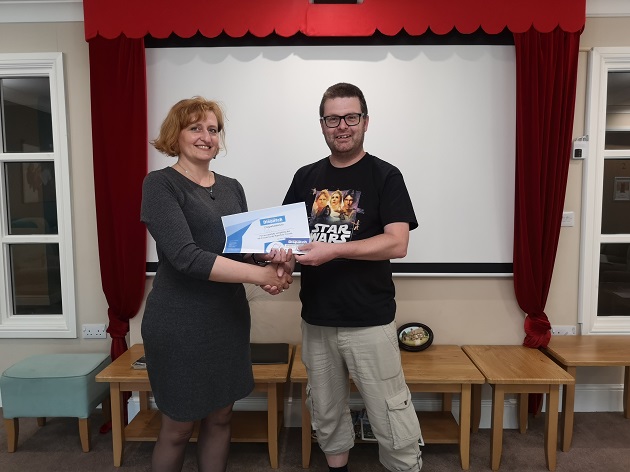 Our new reporters are Vincent Blackwell from Armley, Susan Denton from Armley, Helen Fay from Armley, Martin Heaton from Farsley, Andy Parnham from Armley and Iola Shaw from Bramley,
They received community reporter press cards, a certificate and badge – and the knowledge and confidence to continue to contribute for WLD now the course has finished.
We hope they'll provide a voice for their communities and help shine a light on what's going on in the area.
Editor John Baron, who ran the course, said:
"Our new community reporters have learnt a lot during the course, and are certainly an enthusiastic and talented bunch. Keep your eye out for their stories over the coming weeks, and if you see one of them out and about, don't hesitate to say hello!"
WLD is looking to run a further four courses, with the first starting after the summer. So watch this space! You can find all of our community reporters' work here.
A big thanks goes to Beech Hall Care Home for their hospitality in hosting the course over the past six weeks.
Community News Cafe
The Dispatch also held its latest community news cafe today at Costa Coffee in Bramley. The cafes are a great way to meet up with editor John Baron over a friendly cuppa and chat about what's going on in West Leeds.
John Preston from Hollybush came along and told us about the organisation's 40th birthday celebrations – keep your eyes peeled for an article on this soon. And Sue and her neighbour from Bramley also came along and talked about all things Bramley.
Kirkstall Festival stall
Come and find us at Kirkstall Festival tomorrow (Saturday, July 13). We'll be having a stall there and would love to chat with you about what's happening in West Leeds. Perhaps you could sign up for the next community reporters' course and help tell the story of your community?
Help us to run more courses and continue our work
Producing your daily dose of West Leeds Dispatch comes at a cost!
There's the hosting of the website you're reading now, running our popular e-mail newsletter, membership of independent press regulator Impress, attending summer events, paying for equipment etc etc.
We need at least £200 a month just to break even – that's money currently coming out of the pockets of dedicated volunteers who are passionate about what's happening in our communities, connecting you with local groups and organisations as well as holding decision-makers to account and championing local issues.
And all that's BEFORE we even think about paying something for people's time – for instance, our editor puts in more than 24 hours a week in his 'spare' time to ensure The Dispatch publishes daily.
To put it bluntly, after nearly four years of daily publishing, we are not sustainable!
And we need YOUR help to continue …
For the cost of less than a couple of cups of coffee you can help support local community news and continue to give our communities a voice by taking out a subscription for just £4 per month (that's just a pound a week).
As a thanks you'll get your name on a roll of honour on our website. More importantly you will be enabling us to keep bringing you the news that matters about your neighbourhood.
Achieving a bedrock of supporters will give us a firm financial footing and help us plan for the future.
Supporting us couldn't be easier…
Just follow this link.
or set up a standing order with your bank:
Contact us on Paywestleedsdispatch@gmail.com if you'd like to do this.
Over to you …