I once saw a man along the Leeds and Liverpool Canal fishing for "Treasure", writes Mark Stevenson.
He was using a long rope with a large magnet tied to the end of it. He said over the years he had found everything from old coins, rings and an old gun.
He mentioned that he did a bit of metal detecting and he gave me a tip should I ever take it up and that was to find parks that used to have bandstands and metal detect around that part of the park.
His logic was that people would sit down around the bandstand to listen to the music and some would lose money from their pockets or items from their picnic.
I had seen the remains of a few bandstands around Leeds so I decided I would see if what he said had any sense to it.
From what I read about them he was spot on. From the 1860's right up until WW2 1,200 bandstands were built around the country.
Leeds was one of the first cities to build one. Of the 18 Leeds once had, less than a handful remain, which are Roundhay and Pudsey (pictured top) I can think of off the top of my head.
With the large population growth of large towns and cities in the early 1800's it was noted that it was what that was needed parks for the industrial terrace-dwellers to relax in and listen to music and from there the bandstand evolved. It also gave them somewhere else other than the pub to spend their spare time and money.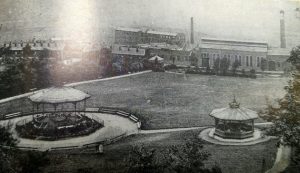 During their heyday in the Victorian era, bandstands were popular and drew crowds of up to 10,000.
A lot of bandstands disappeared during the Second World War as the iron was needed to be melted down. Out of nearly 1,200 bandstands about 350 original ones are standing today.