Words & photos: Mark Stevenson
I was at Carr Manor Playing Fields in Meanwood having a look around (it is supposed to have been the site of a battle in the Civil War) when I noticed the roof of what turned out to be the Towers. 
I eventually found the rest of the building surrounded by modern housing. I knew the building had some connection to Armley, but wasn't sure what it was.
Once I got home and looked into it I remembered what the connection was. Whilst looking Meanwood Towers up I came across this website www.armley-schulze.co.uk. The following extract is from that website: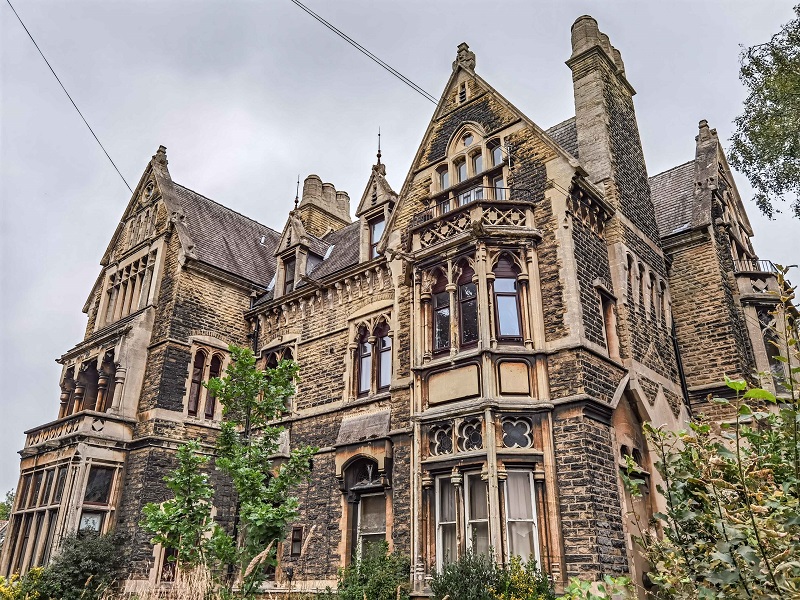 "Thomas Stuart Kennedy had his house at Meanwood, then on the outskirts of Leeds, designed and built in 1866, in an ostentatious style, which we might today describe as impressive but outstandingly ugly.

"It exists to this day, minus its extraordinarily tall chimney stacks, as Meanwood Towers. Some 40 yards from the front door he added an 'organ house', sometimes described as a 'summer house', in which he had Edmund Schulze install the organ he had commissioned from the Schulze family firm based in Paulinzelle (now Paulinzella), Germany.  Perhaps it is worthwhile pausing to put together a picture of a person able, at the age of 25, to have an extravagant mansion built for himself, together with a large organ house.

"Thomas Kennedy was born in Lancashire, the son of a businessman based in Zurich . His early education took place abroad, before completion in Cumberland and Dumfrieshire. He was then taken on by a cousin as a partner in his engineering foundry, later to become Fairburn Lawson Ltd, near Armley in Leeds. In 1865 he was married to Clara Thornton in Canterbury Cathedral, no less. He was well-known as a Mountaineer, and spent much time climbing in such areas as the Matterhorn and was a member of the first successful ascent of Switzerland's Dent Blanche.

"The Kennedys later moved to Wetherby, where they lived out the latter part of their lives. They are buried in Hallfield Cemetery."
That is not where the West Leeds connection ends with the Towers.
From at least 1891 to 1911 Ethel May Cliff lived there. She was the granddaughter of Joseph Cliff. Ethel was born in 1879 and at the age of 12 she was living at the Towers with her Mother and Father Elizabeth and William. She was still there 20 years later living on 'private means'. She had seven servants to look after her.
For more articles on West Leeds' past, check out the weekly Mark's History column here.