Words & Photos: Mark Stevenson
I suppose I should put some kind of a warning like 'don't try this at home' as they do on the TV. If you do try it be prepared to fall on your backside a few times as it is very slippy.
I was surprised to see that the bridge at Milford Place has been closed off but it's been a while since I have been down there.
A sign said it was closed due to Phase 2 defence work of the Leeds Flood Alleviation Scheme. Work to raise the 18 tonne footbridge began in December.
I wanted to get some pics of the work in progress and I knew the best place to get these were down on the river bank.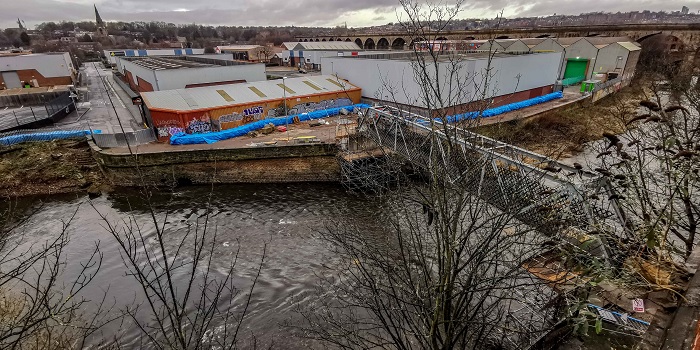 So using the makeshift steps (dug in the mud) that have been there for years and also I think used by Fisherman in the past, I slipped and slided my way down. I knew from looking at the maps that this area was once the site of a ford as the clue is in the name Mil Ford (Milford).
The ford follows the route that the 1856 bridge built by Joseph Butler of Stanningley takes.
I managed to get the pics I was after but it was a bit like being at the beach down there, having a look around to see what had been washed up.
Please support independent community led journalism in West Leeds