Leeds West MP Rachel Reeves writes her regular WLD column, looking at Covid restrictions in Leeds, good news at Armley Helping Hands and a visit to Rodley Nature Reserve...
Due to a rising infection rate in Leeds, Leeds and West Yorkshire have been put in Tier Two under the Government's three tier system of restrictions to stop the spread of Covid-19. 
That means additional restrictions such as no mixing between different households indoors at any location. People from different households can meet outside, including in gardens, subject to the rule of six. Everyone should also try to minimise non-essential travel.
But the Government has made the situation much worse by their inept handling of the situation. Giving control of contract tracing to large companies has simply not worked. Private firms have not reached almost 250,000 close contacts under the Test and Trace system. The Government should use basic common sense to sack Serco and integrate the system into our local communities where health experts will do a much better job.
The Government is pursuing a strategy that is not working and is having a devastating impact on business and our communities in Leeds West.
That has to change. They need to get their heads out of the sand and try something different. Ministers need to follow the science and use a circuit-breaker to fix Test and Trace, protect our NHS and get this virus under control.
The new restrictions are making life much more challenging for everyone and the sooner we can get infection rates falling the better.
It has meant that some of the constituency meetings I carried out in person have returned to online Zoom calls, such as my meeting last week with the new vicar of Wortley and Farnley Parish, Rev Claire Corley.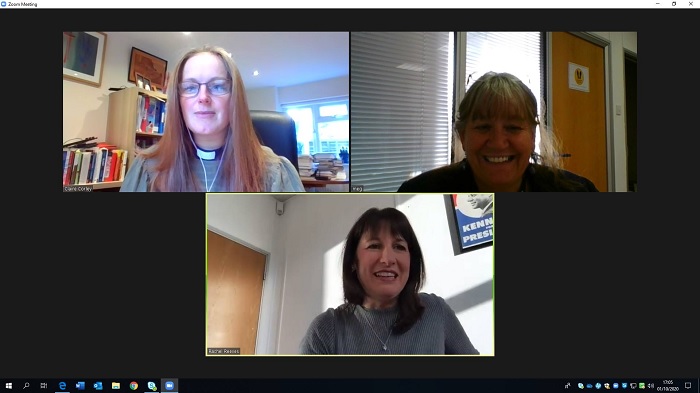 Coronavirus cases in Leeds have been rising since July across the whole city and across all groups of people. It's more important than ever to regularly wash our hands, observe social distancing and get tested and self-isolate if you have symptoms. You can book a test at www.nhs.uk/coronavirus or by calling 119.
I would also urge people to download the NHS Test & Trace App, available here.
Public Health England and Leeds City Council are closely monitoring the situation and taking targeted action to try to cut the number of cases, including measures such as additional testing for the virus in care homes and the local community.
The council is also working with NHS Test and Trace colleagues on additional measures that can be taken, likely to include mobile testing units, a door-to-door campaign in areas with high number of cases, and work with bars, restaurants and venues to stress the importance of following Test and Trace guidelines.
Armley Helping Hands
It was lovely to visit Armley Helping Hands (AHH) on the day they received some fantastic news.
When I arrived, Dawn Newsome, Chief Executive Officer, had just found out that AHH's bid for funding from the National Lottery Community Fund had been successful. This means they will be able to implement a Covid recovery plan in the local area.   
The Community Together Project will run for six months and will mean AHH can engage with people aged over 50 who have been shielding. Their work will focus on supporting them to manage at such a difficult time and helping motivate them and help them engage safely with people outside their safety bubble.
Dawn spoke about the impact the crisis has had on people's physical and mental health. Many people have not left their house for months and have limited daily interactions with others. It is great that we have organisations in Leeds West such as AHH that are able to offer support to people who need it.
Greening up the City
The Woodland Creation Initiative is a scheme recently launched by Leeds City Council that aims to create woodlands across the city and reduce Leeds' carbon footprint while creating new habitats for birds, animals, insects and plants.
Everyone can get involved. All you need to do is collect acorns, beech nuts, chestnuts and conkers in your local park or green space, and leave them in seed collection boxes across the city. You can be a solo collector or work alongside your household or support bubble.
The scheme will run until November. In Leeds West collection boxes can be found at Farnley Hall, Gotts Manor Tea Room and Kirkstall Abbey. In just a few minutes, I was able to collect several conkers and acorns in Bramley Fall Woods – although I do need to brush up on my tree seed recognition skills.
Once collected, the seeds will be grown into saplings at the Arium, the council's parks nursery, and later planted in green spaces across Leeds.
Further information can be found on The Arium website.
School visits
Although visits can be tricky nowadays, I still manage to keep in regular contact with the schools in my constituency.
This month, I have taken part in a meeting with school leaders to discuss the issues they are facing balancing budgets whilst keeping schools open. They are doing a fantastic job in incredibly difficult and stressful circumstances.
I am also looking forward to seeing the entries to my annual Christmas card design competition from primary schools. They are always excellent and show off the creativity of the children in Leeds West.
I'm planning more Zoom calls and hopefully visits to  school classes as the year progresses and provided they can be done safely.
Rodley Nature Reserve
Rodley Nature Reserve is one of my favourite green spaces to visit in the constituency.
The team of local volunteers have always done a fantastic job maintaining the reserve and running events. Like many groups, they have had to rise to the challenge of COVID-19 and the challenges that it has brought.
I was pleased to be able to meet the volunteer groups  this month to see what work they have been doing to ensure the site is COVID-secure for visitors. The Reserve celebrated its 20th anniversary while we were in lockdown. 
So, it was good to be able to congratulate the team on this achievement.
As the Reserve currently has limited opening hours to ensure the safety of visitors, I was glad to lend a hand to help make sure it was fully ready to reopen.