The owner of an industrial estate next to the River Aire has said any delays in installing flood defences along Kirkstall Road could result in more businesses leaving the area.
Richard Condon owns the Cardigan Business Centre in Lennox Road and said it was 'of the utmost importance' that no further delays are incurred during the planning process for £112 million flood defences along Kirkstall Road. Mr Condon said:
"The cost of buildings and asset/contents insurance and lack of flood peril cover is now so prohibitive, long-standing family run Kirkstall businesses are still moving out of the area taking highly skilled jobs with them.

"Any delays or adverse adjustments to the plans put forward by the FAS team will only result in more companies leaving the area.

"When Flood Alleviation Scheme Phase 1 was completed in the Leeds city centre, insurance premiums and flood excesses returned back to pre-2015 levels. Phase 2 will hopefully result in similar returns to normal levels and provide confidence to business to stay in Kirkstall."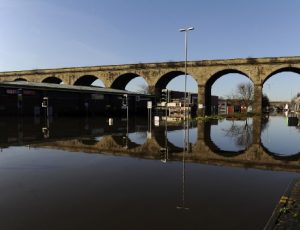 Mr Condon has given his support to a planning application submitted in December which outlines a raft of measures aimed at preventing a repeat of Boxing Day 2015 when the River Aire broke its banks due to Storm eva, leaving many businesses under several feet of water. He added:
"We have lived through the devastation caused by Storm Eva and do not ever want to have to experience this type of preventable disaster again.

"The plans put forward by the FAS team will prevent the level of flooding that occurred back in December 2015 and protect the people and businesses of Kirkstall going forward."
Mr Condon added the level of information regarding this project had been well documented and called for work to start on the defences this summer.
His support comments follow heritage watchdog National Heritage expressing 'serious concerns' over the impact of the planned flood defences on both Kirkstall Abbey and Armley Mills Industrial Museum.
Local concerns on the impact on the environment in Kirkstall and Burley have also been raised. And there has also been concerns about a lack of consultation in the area, with claims the plans are being rushed through.
The plans – which feature measures such as new defence walls, embankments and a large flood storage area – can be viewed here.
The planning application focuses on the four key areas of Leeds Industrial Museum at Armley Mills, Kirkstall Abbey and Kirkstall Meadows, Apperley Bridge and Calverley.
Read more of West Leeds Dispatch's coverage of the flood defences issue here.
____________________
While you're here…
Producing your daily dose of West Leeds Dispatch comes at a cost!
There's the hosting of the website you're reading now, running our popular e-mail newsletter, membership of independent press regulator Impress, attending summer events, paying for equipment etc etc.
We need at least £200 a month just to break even – that's money currently coming out of the pockets of dedicated volunteers who are passionate about what's happening in our communities, connecting you with local groups and organisations as well as holding decision-makers to account and championing local issues.
And all that's BEFORE we even think about paying something for people's time – for instance, our editor puts in more than 24 hours a week in his 'spare' time to ensure The Dispatch publishes daily.
To put it bluntly, after nearly four years of daily publishing, we are not sustainable!
And we need YOUR help to continue …
For the cost of less than a couple of cups of coffee you can help support local community news and continue to give our communities a voice by taking out a subscription for just £4 per month (that's just a pound a week).
As a thanks you'll get your name on a roll of honour on our website. More importantly you will be enabling us to keep bringing you the news that matters about your neighbourhood.
Achieving a bedrock of supporters will give us a firm financial footing and help us plan for the future.
Supporting us couldn't be easier…
Just follow this link.
Over to you …