I recently attended the second of two presentations for the public to learn about the Flood Alleviation Scheme (FAS) in the Kirkstall Valley, writes Jim Corah.
The additional presentations came about after myself and other members of the community expressed that the significant project was being imposed from afar without proper consultation with the local communities FAS should protect.
There is a dire need for Kirkstall and all the communities along the River Aire to be properly protected against the devastating effects of flooding. The disruption felt in 2015 follows on from earlier floods and increasingly extreme weather.
My initial concern from the initial consultation period (in October 2018, I found out later) was for the design of the defences. During meetings of the Kirkstall Neighbourhood Forum the prospect of high concrete walls with little to dampen the impact on the view of our fantastic valley river had been raised. Surely no-one would want to impose structures which would detract from the view of Kirkstall Abbey?
With as open a mind as I could muster I walked to Milfords Sports Centre in Bancroft Street.
There was a central island of maps and information, with further plans and display board around the walls. There was a lot if staff at hand to answer queries and I am glad to say there were already a number of people from the community attending. Over the course of my visit I would say there were at least ten plus members of the public.
At the end of my visit I was asked to fill out a satisfaction survey. Was I satisfied?
Not completely. I was able to find out the location of the FAS structures though not the actual design. Where I was shown images of design, for a structure near the Kirkstall weir, I was told the plans had been superseded.
There was an imbalance in the information. There were sheets of information on proposed changes to the river bank alongside Cardigan Fields though not enough about the stretch of river between Kirkstall Bridge and around the Valley Park.
The goit that runs from the Abbey is certainly a missed opportunity. Rather than involving it in FAS the response seems to be displace responsibility for maintaining it.
Unfortunately for me the worst aspect was that the plans and documents on display were superseded. Who can expect a satisfactory response if it is prefixed with a "these plans are out of date…" or "in the latest design we have shortened the structure…"?
I left the presentation with a list of identifiers so that I might have a chance of finding the structures in the weighty planning application.
The day after the presentation I had a chat with a local business owner who had been heavily disrupted by the floods of 2015.
While they had done everything they can to protect their premises from flooding, the impression I have is that other stakeholders' efforts are barely adequate either in planning or funding (central, London based government being most at fault) to protect our communities.
The business owner rightly pointed out, 'one in a hundred year floods are happening more frequently'.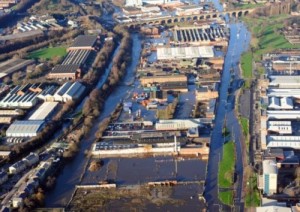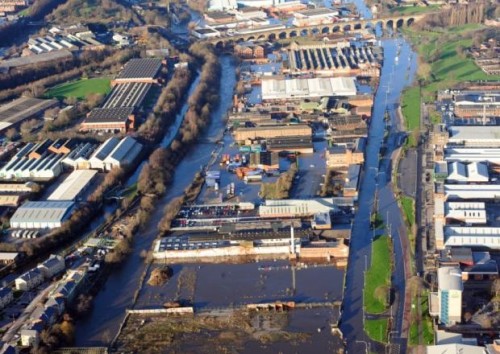 ____________________
While you're here…
Producing your daily dose of West Leeds Dispatch comes at a cost!
There's the hosting of the website you're reading now, running our popular e-mail newsletter, membership of independent press regulator Impress, attending summer events, paying for equipment etc etc.
We need at least £200 a month just to break even – that's money currently coming out of the pockets of dedicated volunteers who are passionate about what's happening in our communities, connecting you with local groups and organisations as well as holding decision-makers to account and championing local issues.
And all that's BEFORE we even think about paying something for people's time – for instance, our editor puts in more than 24 hours a week in his 'spare' time to ensure The Dispatch publishes daily.
To put it bluntly, after nearly four years of daily publishing, we are not sustainable!
And we need YOUR help to continue …
For the cost of less than a couple of cups of coffee you can help support local community news and continue to give our communities a voice by taking out a subscription for just £4 per month (that's just a pound a week).
As a thanks you'll get your name on a roll of honour on our website. More importantly you will be enabling us to keep bringing you the news that matters about your neighbourhood.
Achieving a bedrock of supporters will give us a firm financial footing and help us plan for the future.
Supporting us couldn't be easier…
Just follow this link.
Over to you …