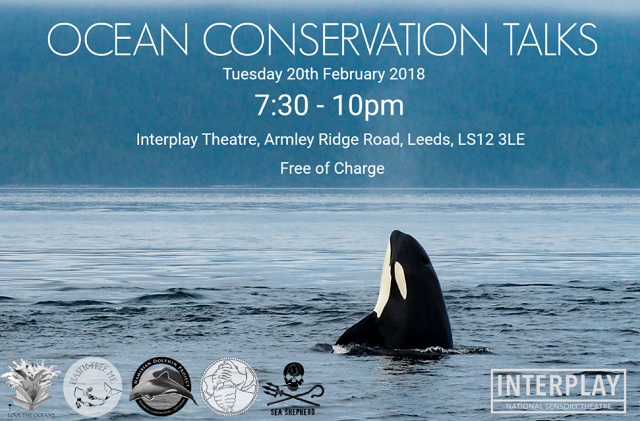 Love the planet and want to protect it? Thinking about doing some conservation volunteering abroad, or just want to make a difference to the planet in your everyday life? Join us at Interplay in Armley for five inspiring talks by different conservation efforts striving for a greener future, writes Harriet Meeuwissen-True.
Interplay and Plastic-Free Me Present are presenting 'Ocean Conservation Talks'.
Talk 1: Plastic-Free Me – Hattie Meeuwissen-True
Plastic-Free Me is a growing network of volunteers passionate about spreading the awareness of plastic pollution. Focusing on single use plastics, they work with businesses, organisations and festivals to find alternatives that are affordable, obtainable and sustainable. We also aim to empower individuals to make small changes so that together we can achieve a large overall impact.
Talk 2: Namibian Dolphin Project – Cat Nadin
The Namibian Dolphin Project conducts research on whales, dolphins and turtles in Namibia and southern Africa. Join Cat Nadin as she tells us more about the need for this research and her experiences in Namibia.
Talk 3: LUU Marine Science and Conservation Society – Liv Smailes
MSC Society is dedicated to spreading awareness about our wonderful seas and oceans (think all things Blue Planet!). They offer members an opportunity to get together with like-minded students and learn about a pertinent area of science.
Talk 4: Love the Oceans – Francesca Trotman
Love The Oceans is a non-profit marine conservation organisation in Guinjata Bay, Mozambique. They use research, education and diving to drive action towards a more sustainable future. They offer a cutting edge volunteer program that gives individuals the chance to work alongside our marine biologists and the local community helping with conservation and research.
Talk 5: Sea Sheperd – Phil McManus
Sea Shepherd is an international non-profit, marine wildlife conservation organisation and Phil is going to tell us more about their latest campaign. The Marine Debris Campaign, Marine debris is a globally recognised environmental issue as marine ecosystems around the planet are increasingly affected by human-made refuse, much of which is plastic. Sea Shepherd are running a global campaign cleaning beaches of plastics, fishing gear and any other potentially harmful items.
DATE
Tuesday 20th February 2018
Doors will open at 7:00pm and talks will start at 7:30pm
VENUE
Interplay Theatre
Armley Ridge Road
Leeds, LS12 3LE
TICKETS
Tickets are free.
You can turn up on the door or if you'd like to guarantee your seat, you can book tickets online here.