Short of ideas on where to go this summer? In the fourth in a series of occasional features, we're highlighting the 'best of the west' (west Leeds)  – and encouraging people to check out some of the stuff they never realised is on their doorstep. Here, our #hometourist Erik R Selby from Pudsey takes a trip to Armley Park …
I've lived in west Leeds all my (ahem … forty something) years and travelled down Stanningley Road past  Armley Park on countless occasions. But until this week I'd never actually set foot in it. Determined to end my Armley Park 'virginity' I got off the bus with my son – and was pleasantly surprised.
Here are four reasons Armley Park is a real gem:
Armley Park's 161 killer stairs
It's a fitness craze that's gaining momentum, but each week dozens of people are tackling the 161 killer stairs down into the woodland area at the back of the park. Do you fancy running up and down these steps?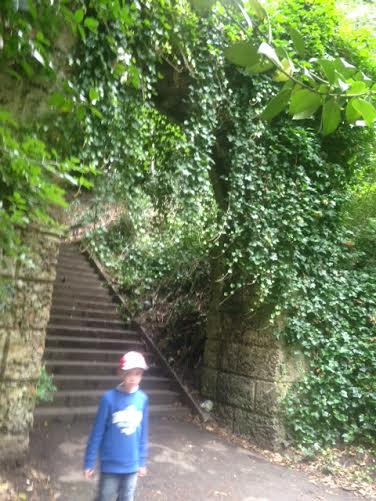 2. Wooded area
There's a really nice wooded area that leads down to the Leeds Liverpool Canal hidden away at the back of the park. I mean, who knew this was here? Quiet woodland walks in the inner city …
3. It's actually beautiful
Green trees, open space and some interesting architectural gems …
4. It's fun!
Acres of open space for picnics (Gotts Park is next door), a decent playground, tennis courts, bowling green, skate park, woodland walks – even an outdoor table tennis table! It's all here.
Add in the great history attached to the area (esoecially famous Armley industrialist Benjamin Gott, and you've actually got a really pleasant afternoon. I'm glad to have 'popped by Armley park cherry', if you get my drift…
Fancy becoming a #hometourist and writing about a part of West Leeds you really love? Email the Dispatch on news@westleedsdispatch.com.