More and more people are contributing to and reading West Leeds Dispatch than ever before, writes editor John Baron
I think it's safe to say that 2019 will go down as the year communities in West Leeds finally found their voice.
Here at the West Leeds Dispatch, we've shone a light on local campaigns such as saving the TV Harrison ground in Wortley and Greenside Tunnel in Pudsey, as well as concerns over Kirkstall's flood defences, traffic congestion and the culling of geese in Rodley.
We've highlighted the work of countless local community groups and organisations and connected people to events, council decision-making, latest developments and local democracy in general.
Community reporters
Arguably our biggest success is training almost 40 ordinary West Leeds folk from a variety of backgrounds to tell the stories of where they live through our community reporters training courses.
Since May, they've compiled almost 300 articles ranging from local history and money-saving ideas through to covering community events and reporting on big council decisions in West Leeds. Check out their work here.
Financial supporters
We've also got more than 40 local people who support us financially each month through ongoing donations through our Patreon site and via direct debit. Thank you for helping a small social enterprise like us to pay our bills!
We've brought people together through our regular community quiz nights (and raise much-needed cash at the same time) and given people the chance to shape the news through our community news cafes.
We're all volunteers, led by community
What people often don't realise is that everyone connected to WLD is a volunteer.
Our nine-strong board run our parent social enterprise called West Leeds Community Media. They have put in countless hours to run events, attend meetings, run stalls at festivals, write funding bids, run our finances etc etc.
They help keep this small, independent, community-led media organisation going. WLD wouldn't be here without them and I thank them dearly for their work, support and friendship.
National influence
WLD has been helping develop and support the wider community news sector, which consists of trusted independent organisations like ourselves who are attempting to forge a sustainable alternative to mainstream media across the country.
We're a member of independent press regulator Impress, who earlier this year asked us to join 11 other organisations in London on the new Independent Publishers Taskforce to explore the challenges and opportunities facing independent publishers.
We attended a few meetings in London and have contributed towards the formation of a new charity called the Public Interest News Foundation. Details here (we get a mention!)
The Foundation will work directly with the public and news publishers to promote citizenship, community development and high ethical standards of journalism.
Independent Community News Network
We're also a founder member of the Independent Community News Network (ICNN), which is a representative body for community news outlets based in Cardiff. We sit on the advisory board and recently attended its annual meeting in Birmingham to discuss a variety of issues.
Thanks so much for everyone's support – without YOU we couldn't do any of this.
But what of the future?
Moving into print
With more people contributing to the Dispatch and more people reading it (1.6 million page views this year, up 26.5% on last year) there's a real danger of burnout.
Most people don't appreciate the sheer number of hours this job demands each day, the sheer relentlessness of it and the stamina needed to keep the site going.
As editor I put in a minimum of 24 hours a week into WLD, on top of the paid day job. It's tough and takes its toll on family life.
In March/April we'll be moving into print. This means more work, but it's the right move for the organisation.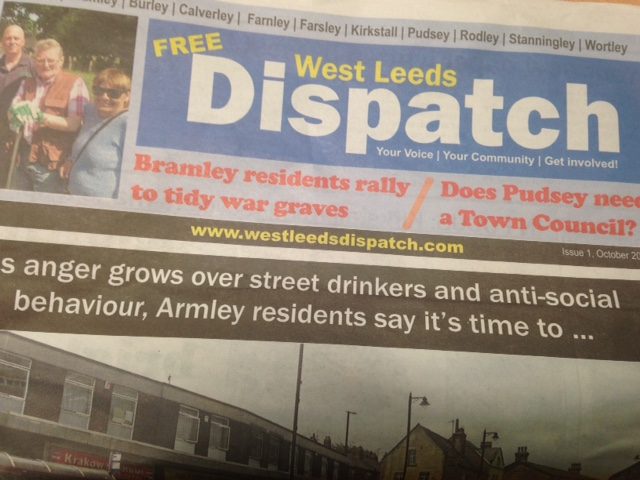 We'll be reaching people who are unable to read us online. And critically small local businesses and community organisations tell us they're desperate for an affordable platform in which to advertise.
The tabloid-size paper will be free and distributed via pick up points across West Leeds.
We're really excited by this development and we hope the revenue will help us become more sustainable in the future.
Moving forward, we have a couple of exciting funding bids in the pipeline, and we hope to revamp our supporters' scheme to make it more accessible. We will also be one of the organisations trialling Value My News, an ICNN initiative helping UK-based community publishers monetise their content.
As the decade comes to a close we want to thank everyone who has helped us in our mission to promote independent journalism in West Leeds, it is truly a community effort.
As we prepare to celebrate our fifth birthday in a few months, we'd like to raise a glass to an even brighter future in 2020!
If you haven't already, support us by signing up to our e-mail newsletter below, or becoming a WLD supporter.