Sponsored content
Would you like to boost your fitness and wellbeing while making new friends in a beautiful building? Historic Grade II Listed Bramley Baths is known as the 'friendly Baths' and may be just what you're looking for!
Bramley Baths is a not-for-profit community led organisation and puts people at its heart. As well as being a beautiful local historical asset – we first opened in 1904 – we are proud to be able to provide affordable membership to our friendly people-powered facilities.
For £29 a month (less than £1 a day) you would have access to:
A friendly gym where you have all the equipment you need to help you keep active. We also have friendly on-site gym instructors who will be happy to help you get started on your route to a healthier lifestyle.
Our stunning Edwardian pool, whenever we are open for public sessions.
A variety of classes in our recently refurbished studio, including yoga, pilates, zumba, body toning, boot camps and more!
We also offer:
Solo membership – you can use either gym, pool or classes for £26 per month
Couples membership – £56 per month
Junior gym membership (ages 12 – 16 T&Cs apply) – £15
We are also offering 20% off for all of our front line workers (NHS, police and fire services).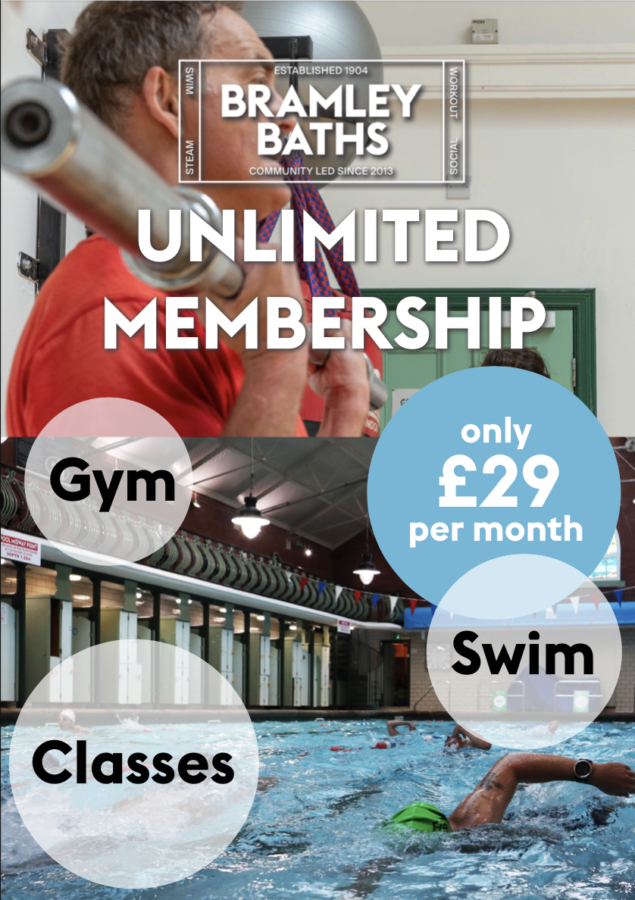 All memberships are available on direct debit, but we can offer these on a pay monthly basis*.
For timetables and more information, please visit our website or find us on social media.
If you would like to arrange a visit, give us a call on 0113 256 0949 or e-mail Jennie Ashton on jennie@bramleybaths.com.
* This would incur an additional cost of £6.