Farnley Reservoir could not have prevented the flooding on the Ring Road in Wortley last week, Yorkshire Water has insisted.
The storm reservoir was built in 1973 a bid to prevent flooding in the Wortley Beck area. But the beck burst its banks downstream on the Ring Road on Saturday, 6 February, leading to a frantic but successful bid by volunteers to stop nearby houses being flooded.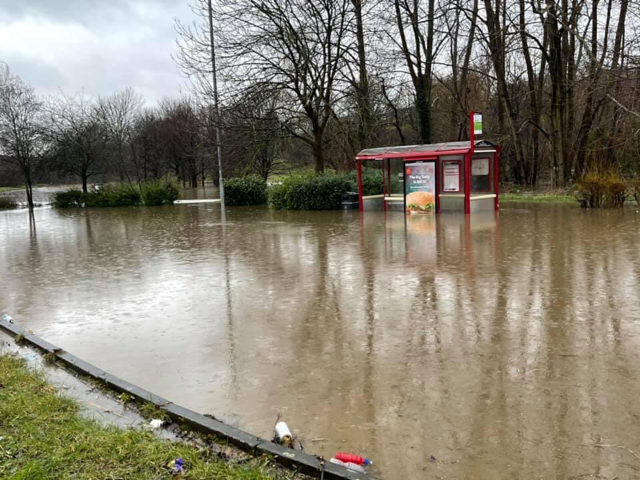 Campaigners – including Leeds West MP Rachel Reeves and Councillor Ann Blackburn (Green, Farnley & Wortley) – have been calling for the reservoir to be de-silted for some time – but Yorkshire Water today maintained that the reservoir had done its job properly during a period of very heavy rainfall. A spokesperson told WLD:
"During recent periods of heavy rainfall, Farnley storm lake did not overtop and inflows have passed through the overflow system to the downstream watercourse as designed.

"Flooding which occurred further downstream should be investigated by all relevant stakeholders to understand the cause."
WLD understands a joint investigation by stakeholders including Leeds City Council and the Environment Agency will be carried out to establish the reason for the flooding.
Farnley Reservoir campaigner Daniel Riley has been leading calls for a de-silting of the reservoir for some time, alongside Leeds West MP Rachel Reeves. Mr Riley said:
"The reservoir last had a full desilt back in 2000-2002, I'm currently seeking beck levels from Environment Agency and searching to see if there were any storms back then. Farnley Reservoir is an active flood defence – it was designed to manage and handle the harshest of weathers. the latest storm should have been within its operational capabilities."
Farnley and Wortley councillor David Blackburn (Green) last week warned floods will become "inevitable" if developers do not become more careful about where they build new housing. Gelderd Road in Wortley and Troydale in Pudsey were also affected by high levels of nearby becks the same weekend.
As reported by WLD a fortnight ago, £50,000 work on maintenance to the dam at Farnley Reservoir was expected to start this week and last four weeks. Signs have been be erected to warn people of the dangers of entering the lake while it has been drained due to deep mud.