An inspirational Farnley family have been raising money for Candlelighters during lockdown. One of the family members – 10-year-old Emma Thompson – writes for West Leeds Dispatch on their efforts, which raised £542.
On Tuesday 20th of April, Sam from Candlelighters messaged my mum and asked if we would like to take part in the "2.6 Challenge".
Mum then discussed with us what we could do to take part, so we decided to do 7 kilometres each on the treadmill which would come to a total of 26 miles.
The people who took part in this were Becky (mum), Gareth (dad), my sisters (Ellie, Chloe, Christa and Hope) and Freddie, my one-year-old brother.  A few days before we started leading up to this challenge we took it in turns to train on the treadmill.
On the day (Sunday 26th April) at our home in the hallway Hope and Freddie started off the challenge at 10am.
Then Chloe went on – she played her music and this encouraged her on. Then for mum's turn mum sang and danced her way through (very badly). Ellie went on next, but we heard a crash and a bang!
She had fallen off, but she quickly got back up and back on the treadmill. She finished her part although she cut her hand: she also sang and danced her way through.
Then my turn came. Before going on the treadmill, I was feeling nervous and thought I'd only manage 1 kilometre, but with the help of my sisters doing silly dances at the side of me the time flew by like a time warp (which happened to be one of the songs we danced to while I was doing my bit). I managed seven kilometres in total: I was thrilled with my achievement.
After me came Christa's turn; she wasn't feeling it but still managed to do two kilometres.
Then came dad's turn. We'd managed 30 kilometres so far but still had 12 kilometres to go. My dad has an app that he listened to and zombies chased him which helped him along. He completed none kilometres, then Chloe jumped back on for another 1.5 kilometres before Ellie did the remaining 1.5 kilometres. Finally Hope and Freddie finished off the last few steps. In total it took us 7 hours 23 minutes and 40 seconds.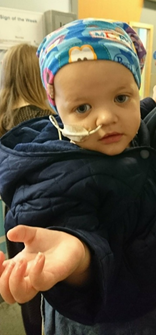 Our reason for completing this challenge is in memory of our little sister Summer Rose, who died of acute myeloid leukaemia (AML) at the young age of 2 and a half in November 2017.
We choose to support Candlelighters, because Candlelighters have been there for us from the day Summer Rose was diagnosed. People don't realise how much they actually do for the children and families in Yorkshire who suffer with childhood cancers.
Here's some of the activities they've provided for our family, to name a few:
£600 grant at the start of the journey
Four nights stay at Centre Parcs and £150 to spend while there
Bereaved mums' group with beauticians/ nails/ eyebrows/ massage and crafts; the same for mums with children on treatment but separate groups per year
Bereaved dads' group with a curry night, snooker, clay pigeon shooting, etc – again the same for the dads with children on treatment (three groups per year for each)
Three tea parties for grandparents (with arts and crafts)
Three sibling groups for bereaved siblings and three separate meetings per year for children with a sibling on treatment: this takes place at the Candlelighters Square with food, fun and games, arts and crafts (whatever we fancy)
Three sibling trips per year to amusement parks, farms, zoos and many more
Residential sibling trip
We created an animation where we had an Oscar premiere party
Easter party every year: we've also had a teddy-bears picnic, a beach party, a Halloween party, and a 'Greatest Showman' sing-along
Hair appointments for parents with children on ward
Talking therapies for children and adults struggling at this difficult time
*A day of memories every year for the families who have lost children
*Best of all, the annual Christmas party which is out of this world.
Earlier this month the Thompsons took part in a Big Night In for Candlelighters.
Summer's sister, Chloe, was last year awarded one of the highest Scouting honours – a Scouting Medal for Meritorious Conduct. The award recognised her actions on behalf of her little sister, when she donated stem cells in a bid to save her.