The Pudsey Carnival committee met last week to begin plans for this years Pudsey Carnival, writes chairman Simon Seary.
The Carnival is always the third Saturday of the month, which means this year's Carnival will take place on Saturday 18th May 2019.
As 2019 marks 50 years since the Apollo moon landings, we decided the theme this year will be 'space and science'.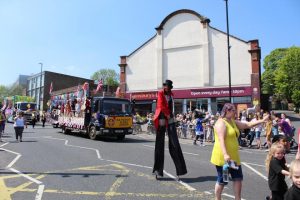 PDS Windows are our parade sponsor and because of their kind generosity, we can award the best float £300 prize money and The best walking float will receive £200!
Applications to take part in the parade are free, but we ask that you complete a parade application form so that we know how many people to expect. Applications can be downloaded from our website.
We have had a number of deployments of our defibrillators in the past year, and the committee felt that we still had areas that were not covered by our now 14 pieces of kit.
We have made the decision to fundraise for more defibrillators again this year and hope that you will support us to make Pudsey one of the safest places to live.
We have been offered free *training* for the defibrillators around Pudsey. If you've wondered how they work or what you need to do, then please do come along! Don't be put off by the word "training" it's not about being trained to use the kit. The box talks you through what you need to do every step of the way.
The training will show you what to expect when you open the box, and show you that it really is easy to use. The information sessions have been arranged for 7pm on Tuesday 2nd April 2019 at Pudsey House. Everyone is welcome to attend, and you do not need to book.
I hope to see you there.
_____________
We encourage anyone living or working in West Leeds to use this website to tell their news. You can either use our Create an Article page, or e-mail us at news@westleedsdispatch.com.