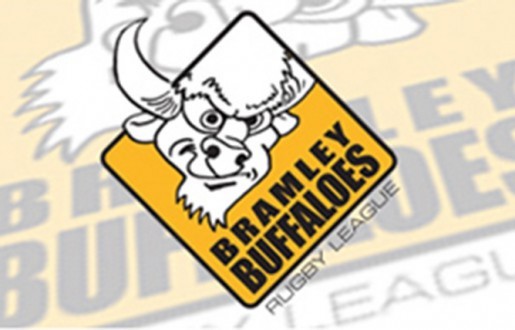 by Paul Abraham
It was a day of disappointment for the Buffaloes and their large following of fans as they went down 14-20 to East Hull at Featherstone Rovers Post Office Road ground last Saturday.  
With the rub of the green and a couple of contentious decisions going the Humbersiders' way, as well as having two tries disallowed, the Buffaloes can feel aggrieved.
But the club officials, coaches and players can be immensely proud of what they have achieved this season. There were fears in March of struggling to raise a team each week – but the club now has 35/40 players training each week and is standing proudly at the top of the division.
After going four points down Bramley hit back with a try from Keiran Hudson and conversion by Connor McGill to edge ahead, before Johnny Filin crossed for an unconverted try and give the Buffaloes a 10-4 half-time lead.  
Any thoughts that East Hull would struggle and fade as they played up the slope were dismissed as they scored ten unanswered points to lead 16-10.  
Keiran Foster-Matthews then scored to cut the deficit to just two points before East Hull scored again to take the score to 20-14.  
The Buffs players gave it everything in the final minutes of the match and crossed for what seemed a good try but was disallowed by the touch-judge on the far side of the ground much to the Buffaloes supporters' surprise.   
As the whistle ended the tense game the disappointment was there for all to see on the players faces but as chair Martyn Cheney commented: "This is a very special group of players who can really take this club forward, so not the result we wanted but we walk away from a final with our heads held high."
This week's match at Westgate Common has been postponed at the request of the home team due to a player's funeral on Friday. Our condolences to everyone at the club.
Coach's Call from Jed Gowland 
"If you want to join the best club in Leeds which is on the up then feel free to come down to training for 7pm on Thursday at the West Leeds RUFC ground on Blue Hill Lane.
"There will be coaches there to welcome you and introduce you to the lads.  Open to people aged 16+ of all abilities, we have a great mix of youth and experience in our squad so don't delay come down on Thursday."
Bramley Lapel Badge sells for over £500!
A 1922-23 enamel Bramley Northern Union Supporters Club badge was sold on Ebay last week for an amazing £522-17p.  Other club badges of the same type and period have been sold recently for between £60 and £80 proving again what a special club Bramley is!
Sponsored content