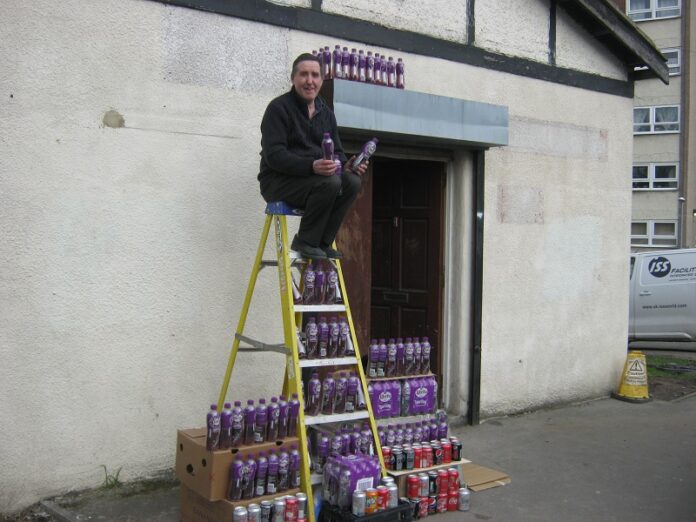 Words: Andy Dalton
Well-wishers have recently donated 150 bottles of pop to the Mission Room in Mistress Lane, Armley. 
Bottles and cans of fizzy pop were recently delivered to the premises of Leeds City Mission to help in its work.
Volunteers have been able to add the pop bottles and cans to emergency food parcels. These are provided for unemployed people and those struggling to cope with the pandemic.
As previously reported, Leeds City Mission volunteers are renovating and transforming the 'Mission Room' in Armley into a Compassion Centre to meet the challenges of local people in need.
From time to time, surplus supermarket food is obtained – helping to meet the needs of people out of work and with little money.
Development Worker Andy Dalton thanked the donators of the soft drinks, who wished to remain anonymous. He said:
"the volunteer team has been encouraged in recent times by financial donations and gifts-in-kind. Every little helps."
The renovation work on the 'Mission Room' is well advanced. Plasterers have completed their work and a central heating system is will be installed in the near future.  Internal painting will begin soon. 
The volunteers are hoping that all the conversion work will be finished in the next two to three months. They are planning an official opening in the summer.
History of the Mission Room
The premises were built in the inter-war period and were known as the Mission Room.
In the 1960s it became the home of the Armley Gospel Temperance Church and also offices for the Yorkshire Band of Hope Union.
In more recent times various ethnic minority churches have rented the premises for their activities. However the Yorkshire Band of Hope Union have now moved to Huddersfield.
The transfer to Leeds City Mission means that the building will continue to be used for Christian worship, social projects and community activities.
Please support independent community led journalism in West Leeds…