Words & photos: Mark Stevenson
"My husband and I just moved into a house on Rosecliffe Mount, at the side of Bramley Park. We're trying to find out more about the history of the red brick houses on the street. Historic maps of the area indicate they were built sometime between 1913 and 1937. Would be grateful if anyone has any further information or old photographs of the area". This is the post I noticed by Clare on the Facebook Group 'Real Memories of Bramley and District'.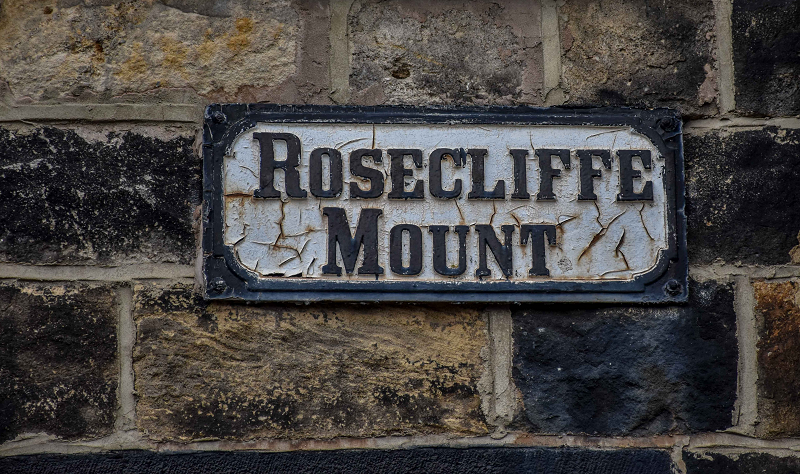 I took myself off to Rosecliffe Mount and, as luck would have it, I bumped into Clare. She knew more than me about the red brick houses and I learnt a thing or two from her in the conversation we had.
I was able to find out that the red brick houses were not on the 1933 map but were on the 1938 map, so I'm guessing they were built between those years.
As my fingers won't take the typing out of all the addresses (as I did for the Westover Road article) I will pick what I think are the more standout 1939 register entries for the red brick side of the street.
You have your usual mill and forge workers, but two professions that stand out are that of Horace Bailey (39), who lived at 4 Rosecliffe Mount with his wife Eleanor (53) and he was a civil servant.
Then you have Arthur J Earnshaw (32), he lived at 8 Rosecliffe Mount with his wife Maud (29) and he was a musician (Violinist).
If anyone has any info about the red brick houses on Rosecliffe Mount then please get in touch via news@westleedsdispatch.com and I will pass it on to Clare.
The other side of Rosecliffe Mount with the more traditional stone-built houses on is older than the red brick side. The 1901 census shows that these houses had by then been built. So between 1891 and 1901, the stone houses were built.
In 1845 a Joseph Barker owned all the land from Fearcliffe Terrace down to Bramley Town Street. The land was made up of three plots and was as wide as Fearnclifffe Terrace and stretched down to Town Street in a long thin rectangle.
The plot of land Rosecliffe Mount is built on may have been part of a quarry because on the left-hand side of Westover Avenue (next street down from Rosecliffe Mount) as you look up it there was once a quarry.
Some of the more standout entries of the 1939 Reister for the stonebuilt houses are:
Isobella (92) Sarah (70) and Ellen (67) Bradley all lived at 1 Rosecliffe Mount.
Nelson Overend (29) lived at 3 Rosecliffe Mount with his wife Edith (30) and he was a Joiner & Coffin, Maker.
Clayton Stead (36) lived at 7 Rosecliffe Mount with his wife Kathleen (38) and he was a Waste Merchant & Turkey Breeder.
Sir Douglas Chalmers Hague CBE (1926 – 2015) was a British Economist who was a close associate of Margaret Thatcher. He was born on the 20th of October 1926 at 13 Rosecliffe Mount, Bramley and his family moved in around three years after his birth.