Work started today to transform a room used for storage at Bramley Lawn Social Centre into a vibrant community newsroom for the West Leeds Dispatch.
The aim of the community newsroom is to provide a friendly base for community reporters and anyone interested in telling the story of their community to come for a cuppa, work on articles and receive advice or support.
Bramley Lawn is run by Bramley Elderly Action (BEA) and offers a variety of community activities, including community cafes, events and services there.
WLD editor John Baron said work today included emptying the room, taking down a dividing wall (pictured above) and taking up the old carpet. John added:
"We're really excited to start work on our new community newsroom, which will be open for the people of West Leeds to come and use. We're looking forward to being just one of a number of existing community activities at Bramley Lawn.

"The people-powered newsroom will be a resource for anyone who is interested in telling the story of their community.

"Our thanks go to BEA for hosting us and to BEA's Leann Sykes-Hooban and Bill Sunshine for all their hard work on the room this afternoon."
Future work over the Christmas period will include cleaning and redecorating the room.
WLD is also appealing to local carpet companies to either donate any unwanted carpet – or offer reduced rates – to help complete the community newsroom. If you can help, please e-mail news@westleedsdispatch.com.
It's hoped the community newsroom will be open in January – watch this space!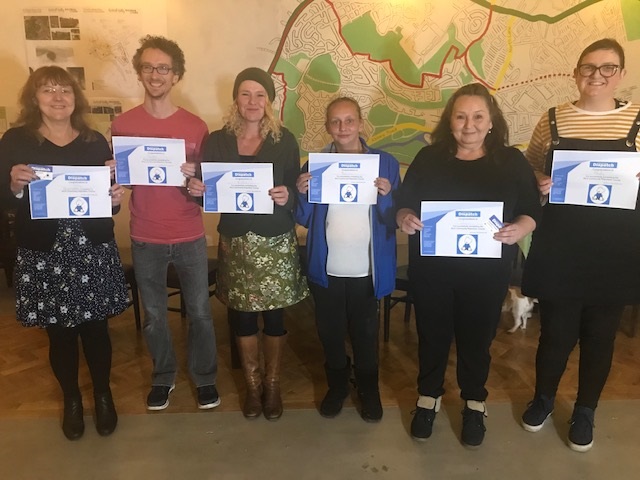 Join our next community reporters course
Would you like to tell the story of your community? Or perhaps celebrate local good stuff – and learn new skills at the same time?
If you'd like to get more involved in what's going on locally, our FREE West Leeds Dispatch community reporters' training course is right up your street.
Join our growing band of community reporters, who have contributed more than 900 articles between them over the past couple of years.
It's fun, relaxed, practical and aimed at complete beginners. You'll get to make new friends, as well as learn new transferable skills you can take into employment or studying.
Our latest course starts from Tuesday, 11 January 2022 for six sessions at the Collective art space in Armley Community Hub, Stocks Hill, Armley.
You'll learn the basics of photography, video and writing articles. And it takes you through writing headlines, where to find news, how to record basic video, podcasting and more.
Book your place – and get more information – here.