May is a busy month in Kirkstall – and with summer's activities fast approaching community groups and organisations are making preparations, writes James Corah.
For Kirkstall in Bloom May is always our big one. The garden has had a nice winter and spring, now it's time to prepare for the summer.
Across Kirkstall there's quite a few events happening in May.
River Stewardship
Team Kirkstall will be active along the river with their river and canal stewardship project on Saturday 13 May. The session will be between 10am and 2pm, though at the time of writing I am not sure where they are working.
The Team Kirkstall Regeneration Hub near Cardigan Fields is an excellent example of how commercial, government, and third sector organisations can come together to offer opportunities for volunteers and communities.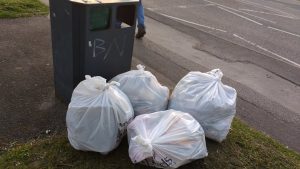 Litter in Kirkstall
The second of a fortnightly series of litter picking events will take place in Kirkstall, meeting at 7pm on Monday 15 May 2017 at the Cenotaph on Bridge Road, Kirkstall.
Our first event was successful, and volunteers from Kirkstall in Bloom and the St Stephen's Well Garden collected seven bags of litter.
Between us we had a good conversation about how to help local businesses help make an impact in the community. One suggestion which we will see about taking up with a high street gambling chain is asking for a bin to be put outside for their smoking customers.
I understand from conversations from fellow volunteers that little positive actions from businesses can have a large impact on the community they operate in.
Work day at the Well Garden
St Stephen's Well Garden are having a work day on Saturday 20 May 2017. Those interested in helping out should head over to the garden on Church View. It is a great way to gain experience, particularly for those thinking about having an allotment.
There are a number of areas of Kirkstall Ward that need looking after. Sometimes a litter pick, sometimes members of the community could come together to tend public spaces. Get involved and help sow the benefits.