Litter picking groups around Leeds are holding a mass litter picking event using purple litter bags – and would like you to join them.
The Leeds Goes Purple event takes place next weekend – and groups led by volunteers in West Leeds are organising litter picks in a bid to tidy their communities and encourage people to take a pride in where they live.
The events highlight the growing movement of volunteer litter pickers in Leeds, who are part of the Litter Free Leeds network.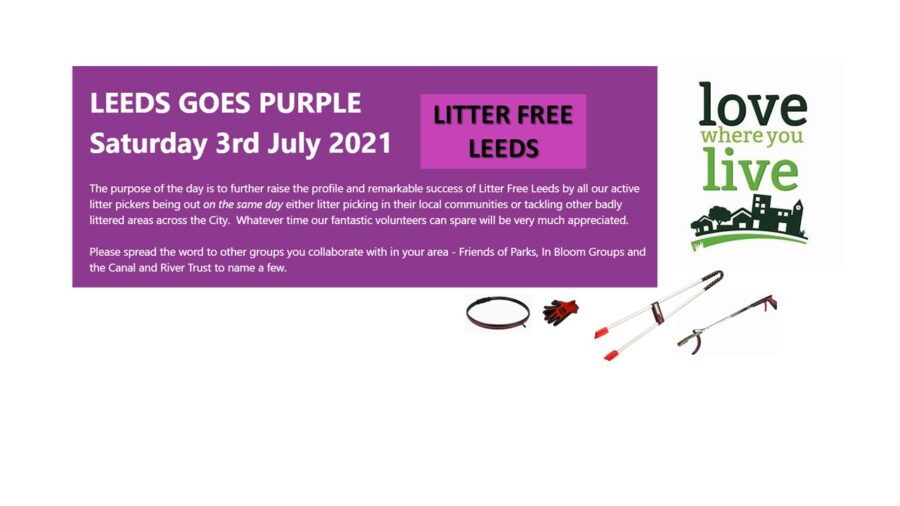 Events include:
Armley
Keep Armley Tidy are organising an Armley Goes Purple community litter pick next Saturday, 3 July, meeting at the Commercial Hotel at 11am. More details here.
Bramley
Bramley Wombles' contribution to #leedsgoespurple is on Saturday, 3 July, at Fairfield Community Centre, Fairfield Terrace from 10.30am to 2.30pm. there will be two sessions, but people can attend at any time. Snacks will be provided for a lunch break.
Please bring your own litter picker, purple bags provided. One of the organisers, Cllr Kevin Ritchie said:
"We are seeing the benefits of both individual and community picks over the last year demonstrating the brilliant Bramley Community Spirit we have. It's a great initiative by Litter Free Leeds to highlight the work of volunteers across the city this weekend and I'm sure Bramley residents will make a big contribution. Thanks to Steve McBarron for the use of Fairfield Community Centre for the base and my colleagues Councillors Gruen and Heselwood for providing light refreshments."
Attendees are encouraged to bring your own litter picker, gloves and a face mask if entering the Community Centre to ensure the event is Covid safe.
Farsley & Rodley
This Friday for Leeds Goes Purple weekend, join Farsley Litter Free in a community cleanup.
Group one is meeting at Farsley Memorial Gardens at 4.30pm on Friday 2 July while a second group is meeting near the Rodley Barge at 4.30pm the same day. For more details follow this link.
Alternatively if you would like to get involved in litter picking in Farsley and Calverley, Cllr Peter Carlill can arrange equipment and bags for groups or individuals. E-mail him on peter.carlill@leeds.gov.uk.
Have we missed an event? E-mail us on news@westleedsdispatch.com and we will add it to our guide.