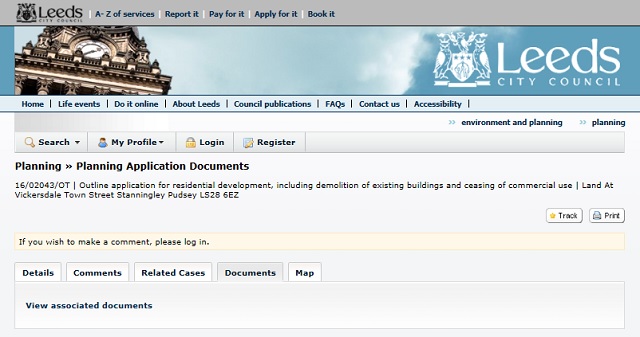 Each week we publish a list of the latest planning applications related to the six council wards in West Leeds.
The following applications were published on the Leeds City Council website in the past seven days:
Armley Ward
Bramley & Stanningley Ward
Calverley & Farsley Ward
Farnley & Wortley Ward
Kirkstall Ward
Pudsey Ward
---
Decided applications
Here are the planning applications decided by Leeds City Council this week:
Armley Ward
Bramley & Stanningley Ward
Calverley & Farsley Ward
Farnley & Wortley Ward
Consent, agreement or approval required by condition 8 of Planning Application 20/04192/FU, Land Off Amberley Road, Upper Wortley, Leeds LS12 4BD.
Side extension to be built over existing garage, conversion of garage to study with installation of window to replace garage door. existing rear bedroom to be enlarged into proposed extension and creation of fourth bedroom to front of extension. entrance to study to be formed in hallway. roof and bricks to match original, no side windows, 4 Pitchstone Court, Farnley, Leeds LS12 5SZ.
Variation of condition 3 (site layout detail) to previously approved planning application 18/02140/FU to amend the wording of the original condition to enable programme dates for the whole development to be met, Stonebridge Mills, Stonebridge Lane, Farnley Leeds LS12 4QN.
Two storey side and single storey rear extension, 41 Kirkdale Avenue, Farnley, Leeds, LS12 6AP.
Kirkstall Ward
Variation of condition 2 (approved plans) of approval 19/06449/FU to make minor amendments to the approved plans, Land Adj To 67 & 69 Queenswood Road, Headingley, Leeds LS6 3NL.
Certificate of Existing Lawful Development for an Outbuilding to the rear, 14 Haddon Road, Burley, Leeds LS4 2HN.
Signage to Costa coffee including illuminated and non illuminated signs, Park Garage Group Plc, Moor Grange Service Station, Ring Road, West Park LS16 6EB.
Pudsey Ward
Certificate of Proposed Lawful Development for a single storey rear extension, 1 Owlcotes Road, Pudsey, LS28 7PA.
One illuminated digital poster display hoarding sign, Adjacent To 203 Richardshaw Lane, Stanningley, Pudsey LS28 6AA.
Single storey side and rear extension, 12 Sunnyridge Avenue, Pudsey, LS28 7PL.
Part single part two storey side extension, 1A Alexandra Road, Pudsey, LS28 8BX.