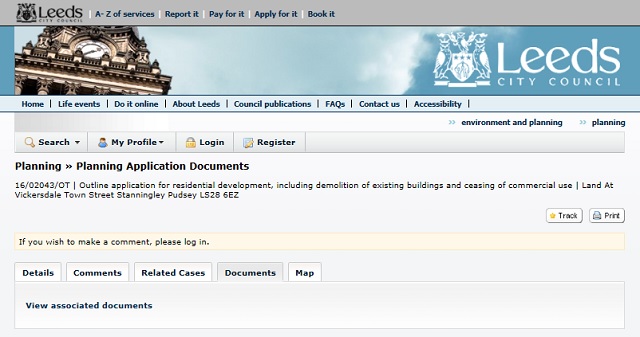 Each week we publish a list of the latest planning applications related to the six council wards in West Leeds.
The following new applications were published on the Leeds City Council website in the past seven days:
Armley Ward
Bramley & Stanningley Ward
Calverley & Farsley Ward
Certificate of Proposed Lawful Developement for a single storey rear extension, 61 Peckover Drive, Pudsey, LS28 8EH.
Construction of Step 2 of the Leeds Flood Alleviation Scheme Phase Two, including a Flood Storage Reservoir (including plant and machinery) and flood defences to include; walls, sheet piling, earth bunds, scour protection and associated access, landscaping, demolition, building and construction works, located between Calverley Bridge in Leeds and Apperley Bridge in Bradford. – NON MATERIAL AMENDMENT TO 21/00522/FU – New proposal for design of wall RB01B, Land South Of River Aire, Underwood Drive, Rawdon, Leeds.
Single storey rear extension; porch to front, 39 Springbank Close, Farsley, Pudsey LS28 5TP.
Single storey side/rear extension and ramp to rear, 69 Parkwood Gardens, Calverley, Pudsey LS28 5PJ.
Alterations including external oak louvres to the southwest facing first floor window in the Parlour Block and solar glazing to the slimline double glazed panels within the new bronze casements, proposed perimeter raised oak section applied to the floor to conceal cabling and 5amp socket outlets, proposed new doorcases and environmental controls in the form of a Building Management System, Calverley Old Hall 18 Woodhall Road Calverley Pudsey LS28 5NL.
Farnley & Wortley Ward
Tree works, 6 Lawns House, Chapel Lane, Farnley, Leeds LS12 5DT.
Tree works, Corinthian House Nursing Home, 65 Green Hill Lane, Wortley, Leeds LS12 4EZ.
Change of use of the first, second and third floor levels to form 18No. residential apartments, Swallow Hill Mills, 351 Tong Road, Farnley, Leeds LS12 4QG.
Single storey side extension, 24 Cottingley Springs, Gelderd Road, Gildersome, Morley Leeds LS27 7NS.
Demolition of existing storage / workshop erection of annexe – NON MATERIAL AMENDMENT TO 23/03494/FU – Addition of glazed external door within glazed gable, Fish Ponds Farm, Hall Lane, Farnley, Leeds LS12 5HA.
Part garage conversion to habitable room space and small window to front replacing garage door, 1B Back Lane, New Farnley, Leeds LS12 5HN
Removal of a temporary storage shed and construction of extension to rear; existing roller shutter to side replaced to form new customer entrance; wall to front removed with new access and creation of additional car parking spaces, Vision Depot Ltd, 1 Wortley Moor Lane, Upper Wortley, Leeds LS12 4JD.
Kirkstall Ward
Pudsey Ward
---
Decided applications
Here are the planning applications decided by Leeds City Council this week:
Armley Ward
Bramley & Stanningley Ward
Calverley & Farsley Ward
Farnley & Wortley Ward
Kirkstall Ward
Pudsey Ward
Two storey rear extension single storey side extension, 121 Tyersal Road, Tyersal, Bradford BD4 8EZ.
Tree works, 35 Spinners Chase, Pudsey LS28 7BB.
Single storey side and rear extension, 12 Earlswood Mead, Pudsey LS28 8QY.
Certificate of Proposed Lawful Development for installation of an air source heat pump, 2 William Lane, Pudsey LS28 7FE.
Alterations including change of use from hot food takeaway to dwelling house, 137 Fartown, Pudsey LS28 8NH.
Demolition of existing garage and construction of a two storey side extension, 12 Uppermoor Close, Pudsey, LS28 8BU.