A 'super' volunteer who goes above and beyond to support other people is the latest West Leeds Dispatch 'good egg'.
WLD appealed for readers to nominate and publicly thank their 'good eggs' – selfless people who go the extra mile in their community without recognition.
Pudsey resident Toni Mella is he founder of Helping Hands UK humanitarian homeless project, which depends on donations to survive. Toni wants to thank helper Nik Noble for her efforts.
Toni said:
"Nik has been doing shout outs for donations this year and has totally blown my mind. Not only does she get them in but sorts everything, delivering everything to me from Boston Spa to Pudsey.

"She helps us on outreach when she's not doing her regular job as a care in the community nurse. and she also does up food parcels for us and delivers them to the needy or vulnerable families.

"Nik has recently been collecting and delivering clothing, household things and food for single parent families andon top of all that she actually donates all the meat I need to make food for the elderly in isolation. To top it all off, not only has she been an amazing carer and friend to me but she's a wonderful mother and wife – an all-round fantastic Egg."
Your chance to say 'thank you' to someone for making a difference in West Leeds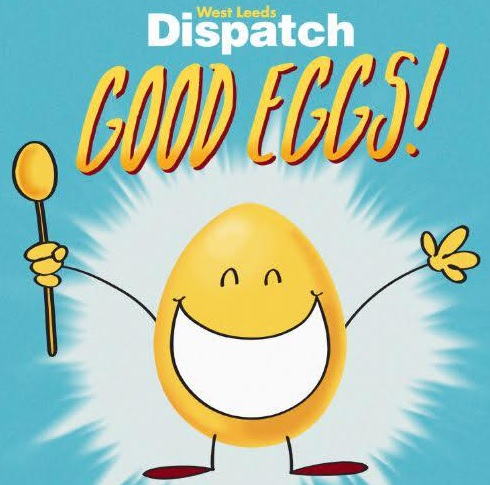 'Good Eggs' don't have to be a lifesaver – they could be someone who does the little (but important) things in life, like doing the shopping for an elderly neighbour who can't get out.
Nominees could range from someone who picks up litter in the street, works tirelessly as part of a local community group, or volunteers their time to make a difference where they live without wanting anything in return. In fact, anything that shows generosity of spirit!
Nominating someone couldn't be easier…
Simply drop us an e-mail – at news@westleedsdispatch.com – providing us with the name of the person you'd like to nominate and some reasons why you'd like to nominate them.
Please include your own telephone number so we can contact you.