COMMUNITY reporter JOSIE ARMITAGE hit the road with a walk and talk event around Bramley celebrating community spirit and activism. Here's what
she found out…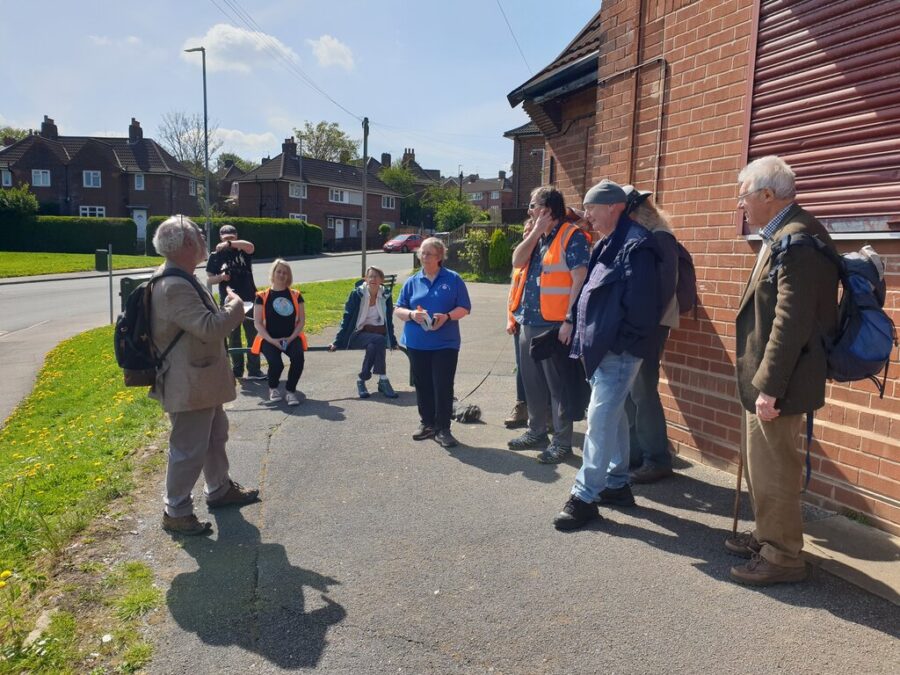 NIGEL Stone led the walk, taking us through snickets, ginnels and cut-throughs and sharing tales of Bramley. We learnt about local legends and the history of places where we stopped along the route.
We started off at Broadlea Community Centre and very quickly started to wander through ginnels, shortcuts and diversions, ending up at the mural at Bramley Park.
Nigel told us about two famous battles that took place in Bramley:
Bramley Carnival Clash:
Originally a cross between talent contest and an agricultural show.
All the Friendly Societies and the yards and businesses would build floats. There would be a procession to Bramley Park. One year in the mid-1800s, there were two marching bands belonging to different Friendly Societies who were both on their way to the park by different routes.
The fella on the big bass drum of one of the bands couldn't see around the drum and took a wrong turn. The two bands therefore met on a street and neither was prepared to back down or back up. They had a play off to see who could outdo the other and win the day.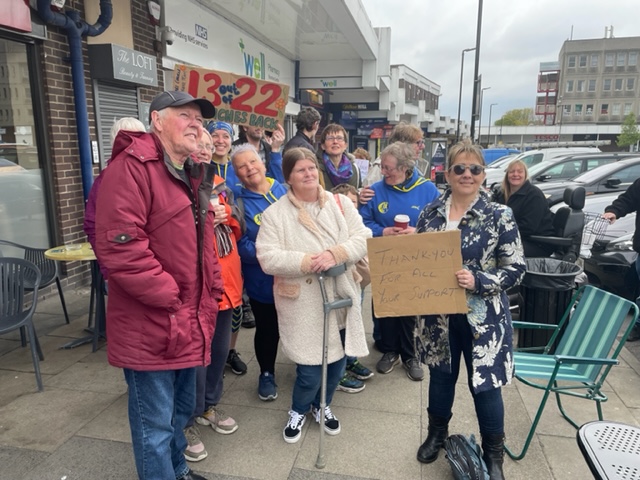 The second battle is the A Place to Sit campaign. The new owners of Bramley Centre decided to remove the benches. The people of Bramley were not going to take this sitting down. They started a campaign to get the benches back. There were weekly friendly sit-ins, petitions – 1,700 people campaigning. And they won!
Lucy Meredith, from Yorkshire Life Aquatic, commented that A Place to Sit campaign was one of the inspirations for this We are Bramley project and their acts of defiance.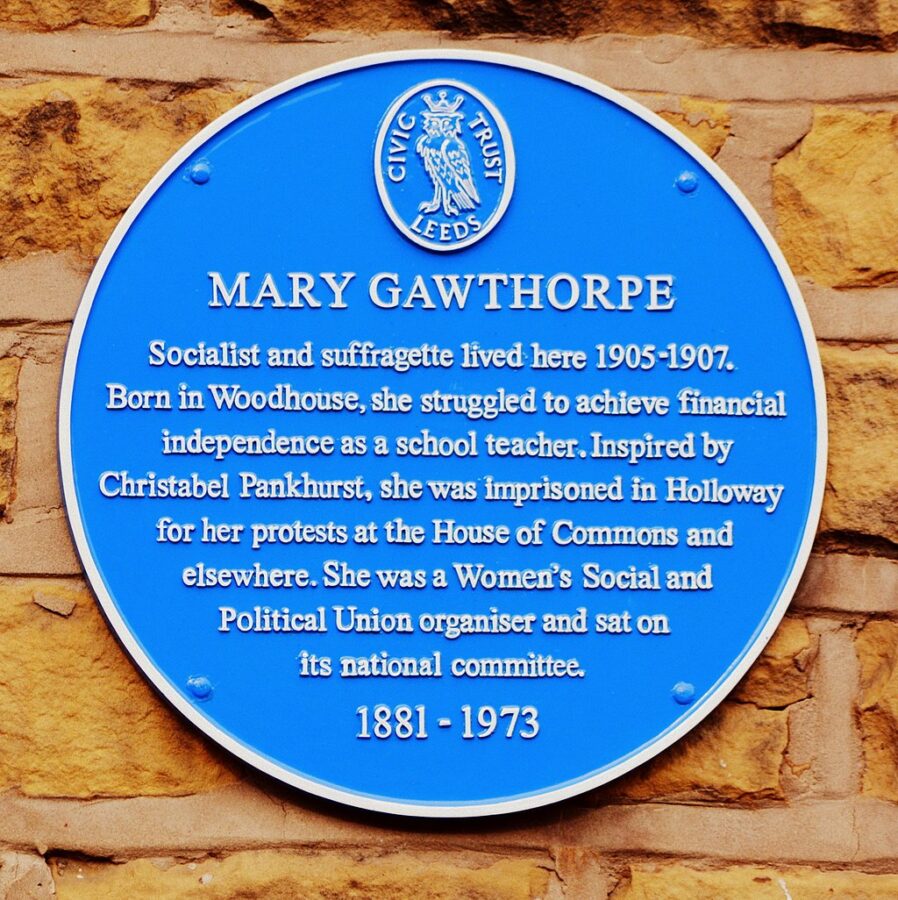 Mary Gawthorpe lived on Grosmont Terrace for a short while (there is a blue plaque commemorating this). She was a suffragette, very gifted, being allowed to study after school and at weekends in the teachers' centre and allowed to teach.
She heckled Sir Winston Churchill but as a result was badly beaten by the stewards for doing so. She spoke at rallies, went to prison, was on hunger strike and force-fed.
On the other side is Bramley Phoenix Rugby Union Club. The story is about Bramley Rugby League Club in 1973 – time of the three-day week and the miner's strike.
The rugby league club got through to the final of the BBC Floodlit Trophy and they won beating Widnes away. As there was a fuel problem they held the floodlit final on a Wednesday afternoon.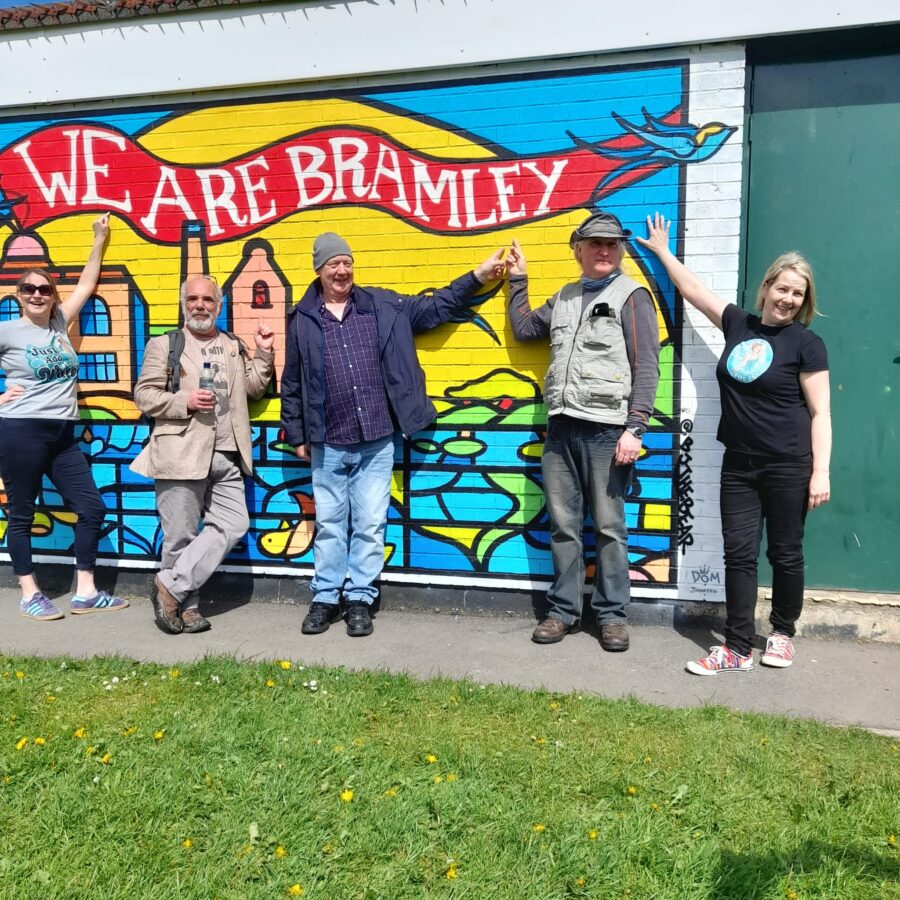 Our final destination was the mural in Bramley Park. People wanted Caroline Burton from The Kitchen at Haley's Yard to be name checked.
Caroline overcame sight issues to source local produce and create restaurant-quality home cooked food from her own kitchen. She prepares and provides healthy meals and take homes for the people of Bramley and wider areas.
There is enough treated water under the Park to fill six Olympic swimming pools. We could see the chimney of Bramley Baths.
The mural is based on the stained glass window in Bramley Baths, a Grade II listed building. It was an Edwardian bath house and was originally a foundry. The chimney is the original. The group reminisced about swimming in the Baths as children and Mr Pearce.
Lucy told the story about the Friends of Bramley Baths, with the support of the community, coming together to keep the Baths open.
The romance: Bramley Baths held dances back in the day. This was the place to go to meet your partner. Many couples had their first dates or met at the Baths.
The mural: Designed by Ben Holden, helped by Dominic Comms and Jameson Rogan. It was vandalised shortly after being painted. A local, Paul Bennett came along to clear it up and cover up the graffiti. Another act of defiance! The people of Bramley have taken the mural to their hearts.
Bramley resident Jackie Scargill said: "I really enjoyed the walk and I learned a lot about Bramley and its history, things I didn't know before. Nigel is very informed."
Lucy Meredith, of Yorkshire Life Aquatic, said: "It has been such a great experience to work with such a positive and enthusiastic community, it has been amazing to meet new people and hear their inspirational stories. There are so many more stories to hear, so watch this space!"
To keep in touch with the project and get involved, join the Facebook group.
Key learning points for me:
Bramley is first mentioned in the Doomsday Book. The name comes from Old English 'brom' 'broom', 'gorse' + leah 'woodland clearing'.
Rocks linked to 'West Leeds Rocks' were also hidden along the walk for people to find. 'West Leeds Rocks' encourages people to paint/decorate stones and hide them for people to find. When you find one, you take a photo and send it to West Leeds Rocks and then hide the stone for someone else to find. We found a few stones on our journey.
A green area with a perfect circle of trees which today were all cherry blossom [add aerial photo]
Ginnels: The use of narrow ginnels to stop cattle escaping from farms. Hiding in ginnels if pinching apples from Haley's Yard. A guy pawning items for kids and poor people doing business in the ginnels. Richer people using ginnels to eat chips as it was frowned upon for them to eat them in public.
Contentious fact: Bramley Quarry stone used at Leeds Town Hall, Corn Exchange and Armley Jail. Also as far as London – Blackfriars Bridge, Westminster Bridge, Euston Arch and at the port of Dover.
Manor House which BARCA purchased in 2003 and the site of the original Portakabin where they started.