Leeds West MP Rachel Reeves has called for the sale of a Wortley playing field for housing to be suspended for urgent talks between campaigners and the site owners.
Campaigners are opposing the sale of 'Wortley's Wembley' – where many famous Leeds United footballers started their careers – which they say was historically handed to the children of Leeds for use as sports pitches.
Leeds City Council, which owns a quarter of the Oldfield Lane site, wants to build around 50 local authority houses there and buy the remaining 75% of the site from the Leeds Schools Sports Association (LSSA), which supports sports in schools.

A petition to save the site, which has been empty for 14 years and has fallen into disrepair, has passed the 600-name mark, despite only launching earlier this week.
Leeds West MP Rachel Reeves said on Facebook that 'the voice of the local community must be heard'. She said:
"There must be an immediate pause on the sale of the land while local people have a chance to put forward alternative proposals and so that negotiations can happen between the community, local authority and Leeds School Sports Association.

"It is not acceptable that these former playing fields are built on without any consultation with local people. That's why I have met with local campaigners, Leeds City Council and have arranged an urgent meeting with Leeds Schools Sports Association at the end of the month.

"The children of Wortley both now and in future generations, deserve good quality sporting facilities – like those that were promised to them when this land was purchased all those years ago. I'll do everything in my power to ensure the voice of the local community is heard."
Labour Councillor for Farnley and Wortley, Matt Gibson, said:
"The TV Harrison site has huge historic relevance to Wortley and Leeds. As the place where countless footballers in the city started their careers, including Leeds United heroes like David Batty, Noel Whelan and Brian Deane, it should be protected and deserves to be restored to its former glory.

"It's a tragedy that this treasured piece of land has been allowed to fall into such a state of neglect and disrepair.

"I'm fighting to ensure Wortley gets the proper sports facilities it deserves and the community needs to have their say on the TV Harrison site's future before any final decisions are made."
Cllr Gibson last month told The Dispatch there was a shortage of social housing and backed the development of the site. Now he's backing calls to pause any decision on the land and says didn't know much about the history of the site. He added:
"There's huge strength of feeling from the local community attached to this piece of land, which I've learned about over the past six weeks, almost entirely as a result of this people-powered campaign.

"It's my responsibility to listen to the people of Farnley and Wortley and represent their views. And, since the beginning of January, my constituents' views in relation to this issue have been deafening in favour of opposing any sort of housing being built on this site and restoring it to its original use."
Green Party councillors Ann and David Blackburn are opposed to the housing – and have opposed its listing for housing in the site allocation plan blueprint – but fear the battle to save it may be lost. Cllr Blackburn told Leeds Live last month:
"They've been trying to sell it off, which is something I totally oppose.

"I got elected 22 years ago and I've been trying to oppose it ever since it first started. On a number of occasions I've had people seriously interested in investing from other sports clubs, who want to buy it.

"But they will not sell it unless it's to a developer for housing, as they will get a lot more money."
Current site owners LSSA, who are hoping to sell their part of the land to the council for housing, are refusing to talk to the press about about its intentions and claims that it refused offers to use the land from different sports clubs over the years.
The council has previously said the ground is now unusable for sport after laying empty for 14 years.
The TV Harrison sports ground had football pitches, a clubhouse and changing rooms and floodlights. It also had hard courts and a running track and was used for a variety of sports, including netball and rugby.
TV Harrison, who was headteacher at Hunslet Lane and Christ Church junior schools, was the main instigator of buying the land but he died before the field was bought. A campaign to raise the remainder of the money was run in the Yorkshire Evening Post and raised £1,200, which was a phenomenal amount at the time.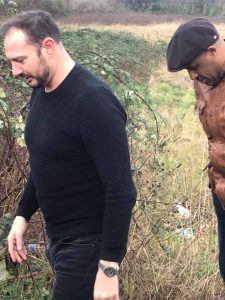 Former Leeds United stars Noel Whelan and Brian Deane recently visited the site and backed calls for the site – where they started their careers – to be saved.
____________
We encourage anyone living or working in West Leeds to use this website to tell their news. You can either use our Create an Article page, or e-mail us at news@westleedsdispatch.com.