Looking around the overgrown patch of empty derelict land in Wortley you'd have never guessed it was once the home of some of the finest footballing talent in the country.
The likes of Leeds United greats David Batty, John Charles, Paul Reaney and Paul Madeley all started their careers at the TV Harrison Ground over the years, learning their trade playing for school representative side Leeds City Boys.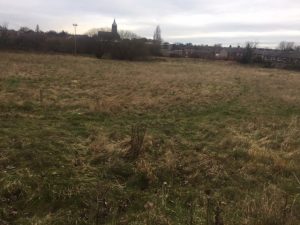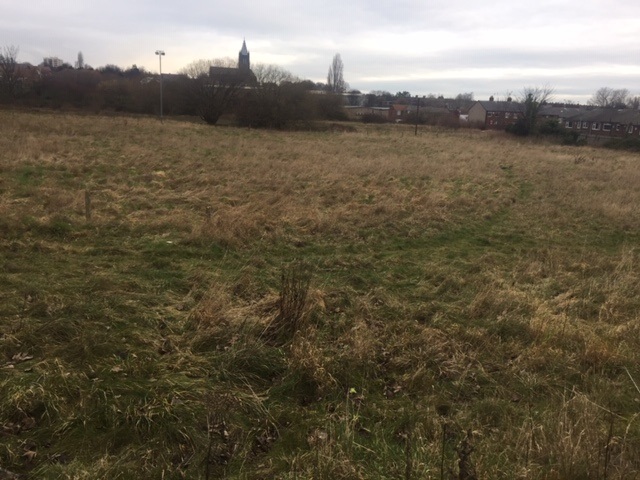 Bradford, Everton, Sheffield United, Rangers and Scotland star Stuart McCall also graced the ground many times. Locals will tell you current Liverpool star James Milner played on it, too.
Today the TV Harrison Ground at Oldfield Lane, Wortley saw another two of its famous sons – former Leeds stars Noel Whelan and Brian Deane – tread its grass once more. But this time the ex-Premier League footballers were here to back the campaign to save the ground being transformed into housing.
The area has been identified as a potential site for up to 61 homes in Leeds City Council's upcoming site allocations plan and has recently been earmarked by the council as the site of around 50 new local authority houses.
The council owns about quarter of the site behind Wortley's Asda, which has been empty for about 14 years, and are hoping to buy the rest of it for an undisclosed sum from the Leeds Schools Sports Association (LSSA), an organisation which supports sport in schools across Leeds.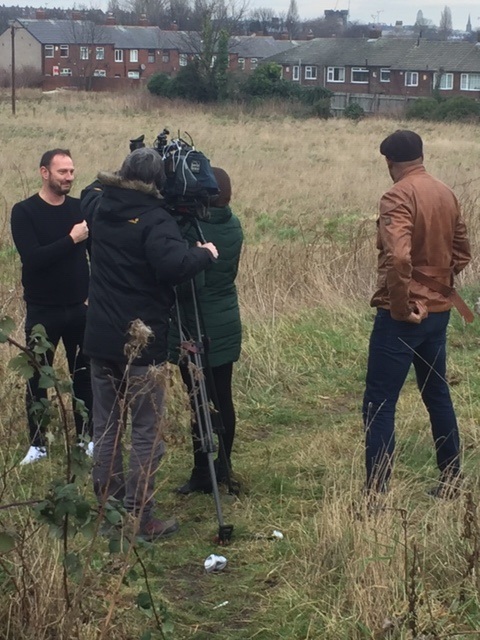 Whelan arrived early for the 10am press call which was attended by a film crew from Look North, as well as the West Leeds Dispatch, which broke the story of the housing opposition and the allocation for council housing on the site.
Looking at the empty field, Whelan shook his head and said:
"I played here many times. It's such a shame. I have so many happy memories of playing here, it's a shame it's come to this. It should never have been allowed to happen."
It's clear Whelan is affected by the demise of 'Wortley's Wembley' – an area locals say is second only in Leeds footballing importance behind Elland Road itself.
When he adds: "If they gave me a spade I'd dig all this up myself and re-lay the turf" you don't doubt him for a moment.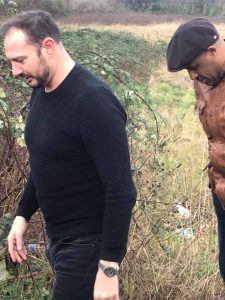 As crowds build, Whelan is joined by former Leeds (and England) striker Brian Deane, who also played here (and famously scored the first ever goal in the Premier League in 1992).
Deane is happy to chat to local residents and football fans alike. He speaks passionately about the lack of playing pitches: "There just aren't the facilities for youngsters these days, when I was young you could go up and spend hours on school pitches, now they're all fenced off. We need to be doing more for youngsters."
His words about youngsters seem quite apt. In the crowd of about 20 people gathered at short notice for the photocall, there are children of all ages, from babes in arms to high school kids.
Nearby residents say Wortley World War 1 hero TV Harrison actually gifted the space to the children of Leeds before his death in 1931 – and that the sports pitches and facilities should be restored to their former glory. The ground is most famous in Leeds as the venue for the Leeds City Boys club, but it has been used for sporting fixtures going back to the 19th century.
Their campaign is gaining momentum on Facebook, and they've even launched a crowdfunding campaign with an initial target of £20,000.
Arron Lambert, 47, is leading the campaign. Earlier this month he told The Dispatch the facilities acted as a breeding ground for developing football talent and added:
"The ground has been there for kids all along and for the council to plan to build houses on such a historic site is such a shame – it should still be there for the kids of the area.

"There has been interest in taking on the site by local teams, but the council and LSSA have put barriers up. This should be at the heart of school football, it's such a shame."
There were plenty of people gathered at the TV Harrison ground this morning who agreed with him. One man, who was here with his son, points out where the changing facilities were, just behind Asda – and laments the only thing remaining are a few derelict floodlights, standing forlornly amid the undergrowth, relics from a lost era of sports training for youngsters in Leeds.
He said: "I used to watch some of the big players here. I remember [former Leeds United star] Gordon Strachan coming here to watch his son. There are special memories here. Now, it's all about money – the site owners just want to sell it for housing."
The campaigners are hoping to meet Leeds West MP Rachel Reeves next week. Green Party councillors Ann and David Blackburn are opposed to the housing but fear the battle to save it may be lost. Labour's Matt Gibson says there is a shortage of council housing in the city and supports housing on the site.
Current site owners LSSA, who are hoping to sell their part of the land to the council for housing, are refusing to talk to the press about about its intentions and the claims it refused offers from Wortley Boys football club and West Leeds rugby league club over the years.
The council says the ground is now unusable for sport, and says it's been empty for 14 years.
The Dispatch reported earlier this month that nearby Wortley FC want to add two new grass pitches and drainage to the former artificial turf pitch and the run-down MUGA on the former Wortley High School playing fields, off Blue Hill Lane.
Their plans have won widespread support from local politicians and current Leeds United star and former Wortley player Kalvin Phillips. The LSSA have also written to add their support to the scheme, saying there is a lack of facilities in the area.
Whatever the outcome, it's clear Wortley residents aren't keen on losing this final big match on their old sporting stage without a fight.
____________
We encourage anyone living or working in West Leeds to use this website to tell their news. You can either use our Create an Article page, or e-mail us at news@westleedsdispatch.com.