Campaigners are fighting to save a former sports ground in Wortley where Leeds United greats like Raul Reaney, Brian Deane and David Batty used to play as youngsters.
The derelict TV Harrison ground, off Oldfield Lane, has been earmarked by Leeds City Council as the site of 50 new local authority houses.
The council owns a quarter of the site, which has been empty for 13 years, and are hoping to buy the rest of it for an undisclosed sum from the Leeds Schools Sports Association (LSSA), an organisation which supports sport in schools across Leeds.
But nearby residents say Wortley World War 1 hero TV Harrison actually gifted the space to the children of Leeds before his death in 1931 – and that the sports pitches and facilities should be restored.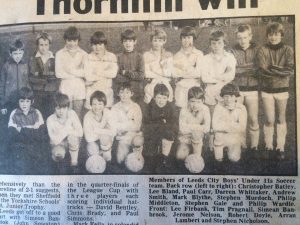 Arron Lambert, 47, is leading the campaign. He said the facilities acted as a breeding ground for developing football talent and added:
"The ground has been there for kids all along and for the council to plan to build houses on such a historic site is such a shame – it should still be there for the kids of the area.

"There has been interest in taking on the site by local teams, but the council and LSSA have put barriers up. This should be at the heart of school football, it's such a shame. Housing isn't sustainable there."
A Facebook group has been set up to lead the campaign. On it, Dave Cocker wrote:
"It was like playing at Wembley for us schoolboys in the early 1960s and I feel angry every time I pass it nowadays seeing its demise to rack and ruin."
Another added:
"It was the site of many big cup finals. Lots of people have happy memories playing there. If it's been left to the children of Leeds then it shouldn't be built on. TV Harrison's legacy should be honoured. There aren't enough sports pitches for kids to play on now all schools' pitches are fenced off and out of bounds."
The TV Harrison sports ground had football pitches, a clubhouse and changing rooms and floodlights. It also had hard courts and a running track and was used for a variety of sports, including netball and rugby.
TV Harrison, who was headteacher at Hunslet Lane and Christ Church junior schools, was the main instigator of buying the land but he died before the field was bought. A campaign to raise the remainder of the money was run in the Yorkshire Evening Post and raised £1,200, which was a phenomenal amount at the time.
Former Bradford City, Everton and Scotland star Stuart McCall also used to play there. McCall, who also played for Pudsey Juniors and Farsley Celtic, attended Upper Wortley Primary School and Thornhill Middle School. Leeds City Boys, a representative side of the best schoolboy talent in the city, also played there.
The area, off Oldfield Lane and Oldfield Avenue, has been earmarked for the new council housing, which is part of a £50 million scheme to build more than 350 new council homes across the city.
LSSA, which is selling its share of the site to Leeds City Council, refused to comment on their sale of the land when approached by the West Leeds Dispatch.
Farnley and Wortley Green Party councillors Ann and David Blackburn oppose the development of the site for housing. Cllr Matt Gibson (Lab, Farnley and Wortley) is broadly in favour as he says Leeds needs more social housing and said that the site has laid dormant for 13 years.
The Dispatch reported earlier this week that nearby Wortley FC want to add two new grass pitches and drainage to the former artificial turf pitch and the run-down MUGA on the former Wortley High School playing fields, off Blue Hill Lane.
Their plans have won widespread support from local politicians and current Leeds United star and former Wortley player Kalvin Phillips. The LSSA have also written to add their support to the scheme.