It's won numerous awards and is at the heart of the Pudsey pub scene. Now, former Leeds Campaign for Real Ale chairman Mike Hampshire asks is The Fleece the best pub in the city?
We are fortunate in Leeds to have a city centre that is so well populated with great beer pubs and bars. Like many of our Northern neighbours (Manchester, Sheffield), the people of Leeds have really taken a shine to the recent beer boom and the vast choice of drinking venues available to us is testament to that.
This does give us a bit of a problem. In my time as Leeds CAMRA chairman, there was a noticeable coloration between venues opening in the City Centre and those closing out of town.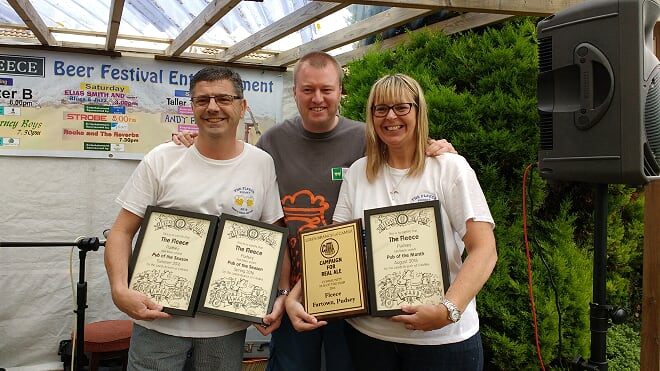 My personal belief is that as local community requirements change and travel has become easier, it is more appealing to the modern drinker to go where there's more choice and I think this is one of the fundamentals in the death of the local pub.
There is one pub, however, that continues to flourish out of town. The multi award-winning Fleece in Pudsey.
How good could this pub be?
Until I started to get involved with Leeds CAMRA, I'd never heard of this pub let alone visited it. I live in South Leeds, so taking the long journey across the city to visit pubs in Pudsey wasn't high on my list of things to do.
By the time I became involved in the branch though, the Fleece had already won many CAMRA branch awards. It was inevitable, then, that one day I would make the trip.
I remember the first time en-route to the Fleece. It was a Saturday social in Pudsey and the Fleece was amongst the list of places to visit. I admit, I wasn't exactly excited about the prospect, I mean how good could this pub be?
It sits on the outskirts of Leeds, which suggested average beer at best and with it being a local community pub I was half expecting the locals to glare as foreigners from elsewhere in Leeds stole their designated seats. Ok, a little dramatic, but you get the gist of my thought trail!
However, it was, and still is, nothing like that at all.
As you step into the pub, there are two things you immediately notice. One is the Cask Marque plaque and second is a wall of CAMRA awards, all proudly displayed as you enter the main door.
Warm, heartfelt welcome
You're then presented with a choice, to your left is the tap room, with a TV for showing sport, and to your right the main pub. It doesn't matter which way you go though, because the next experience is the same.
I don't say this lightly. From my experience, I truly believe that the warm, heartfelt welcome that Paul, Kate and 'Team Fleece' provide to visitors is second to none in Leeds.
Paul and his fiancé Kate own the free house, supported by Paul's affectionately named 'Team Fleece', the people who help him and Kate keep the pub running.
The pub is comfortable and clean, and decked out with lots of film memorabilia from a golden era of the silver screen. Laurel and Hardy figurines dominate, but are supported by large posters and artistic impressions of famous actors and actresses like Dean Martin and Marilyn Monroe.
Next to the bar is a vintage coin slot rotary dial phone, in immaculate condition (I'm not sure if it's connected though!). There is something to see in every corner, on every wall, yet it isn't overwhelming, making you feel more like you're at home rather than in a pub.
Let's talk about the beer then. The keg lines are more geared towards premium lager products, so for the real beer drinker your choice is from five hand pulled lines.
Ambience and character
What you'll get here is bitters, pale ales and the occasional stout/porter. I can sense some of the modern drinkers reading this start to quiver – where are the double IPAs? Imperial Stouts? Saisons? The Fleece is not that type of pub and to be honest you wouldn't want it to be.
The ambience and character of the pub means you feel at home drinking great quality traditional beers. And quality is the first word that springs to mind when drinking beer here.
I don't say this lightly either. From my experience, I would say Paul is the best cellar man in Leeds. One of the house beers is Timothy Taylor's Landlord. I challenge anyone to find a better pint of this served elsewhere in Leeds, and I include Timothy Taylor's own pubs in that.
Paul is someone who really nurtures his beer and has exceptionally high levels of quality that a beer must meet before he is willing to sell it. Paul has before refused to put beer on the bar that hasn't met those standards. What that means for the drinker is that every pint of cask ale that you drink in his pub will be in exceptional condition. The Cask Marque accreditation here is not a token gesture, it's one that the pub is proud to have and deserves.
Community hub
I may be coming across as over selling this, but my enthusiasm for the quality of the beer at the Fleece is genuine. Supporting the superb Landlord is also Timothy Taylor's Golden Best and Tetley's cask. The other two lines are taken up by a guest and a pale.
Such is Paul's reputation amongst brewers, they often rebadge the pale provided to name it in Paul's honour. On one of my recent visits, I was drinking Paul's Pale Ale, rebadged by Salamander Brewing Company.
The Fleece is a real community hub, each time I've been I've been so impressed with how the local people get behind it. Not just this though, but it attracts people like me who don't live nearby, to keep coming back. That is testament to how Paul and Kate run the pub.
Every year in Summer, they utilise their decent-sized beer garden to run a beer festival. The festival is run in aid of Yorkshire Air Ambulance, a charity that you can sense how passionate Team Fleece are to support. It's a three-day event, showcasing around 30 beers, including styles you wouldn't normally see in everyday life at the Fleece. Aside from the beers, there is a gin and prosecco bar, food tents and tombola. This is a terrific event that supports such an important charity and it's one of the first dates I ring on my calendar every year.
Earlier, I mentioned the Fleece had many awards. On my count, they have two Leeds CAMRA Community Pub of the Year awards, seven Leeds CAMRA Pub of the Season awards and two Pub of the Month awards. All well-deserved, although it is a shame and perhaps a little unjust that the prestigious Leeds CAMRA Pub of the Year award has so far eluded them.
So, that's the Fleece in Pudsey. One of the best pubs in Leeds and proof that if you run an out-of-town pub exceptionally well, you will buck the trend of pub closures.
The Fleece can be found at 100 Fartown, Pudsey. The area is served frequently by bus services 4, 14, X11 and X14 from Leeds City Centre.
Mike Hampshire is a member of the British Guild of Beer Writers. He currently blogs over at Mike's Tap Room.
What do you think? Is The Fleece the best pub in Leeds? Have your say in the comments below.